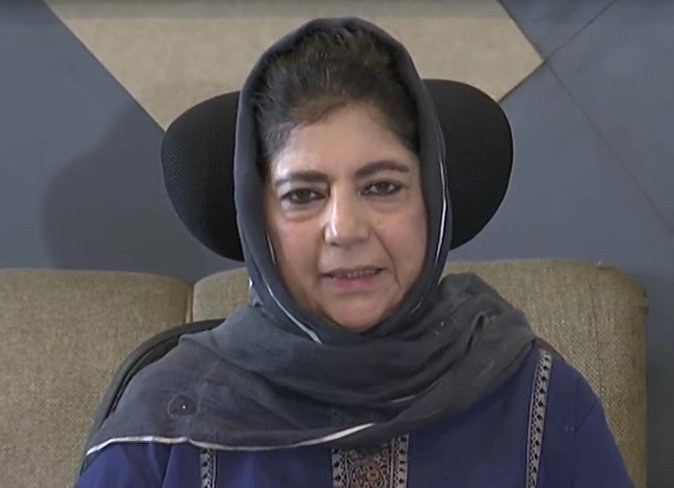 Jammu, Oct 06: PDP President and former Chief Minister Mehbooba Mufti on Friday hitted hard on backdoor appointments allegation, saying the incumbent Chief Secretary Dr. Arun Kumar Mehta shouldn't make his tongue so loose.
Addressing a press conference in Jammu, Mehbooba Mufti as per KNS said if Chief Secretary J&K is so confident that over 2.50 lakh employees have been inducted through fraudulent means in government departments, then he without wasting a bit should invite agencies like ED, NIA, CBI and others to carry out a thorough probe into the matter and bring the culprits to fore.
Mehbooba said, "If Chief Secretary is so sure about backdoor entries in government departments, he should name those who have made those appointments. If this is so then he is himself now heading those employees who have been appointed through backdoor".
She alleged that the present government in J&K is involved in corruption from top to bottom. "The present dispensation has wrecked havoc in every sector. Youth have been badly affected due to their anti-people policies. They are terminating employees day in and day out in pretext or other, instead of providing of jobs to local youth. The LG government in recent past has given contract to APTECH agency who later on played with the future of our youth in a calculated way. Even J&K's top IAS officer from Jal Shakti Department had alerted government about huge scam in the department, but unfortunately Chief Secretary J&K is tight lipped on the matter," Mehbooba asserted.
She added J&K is reeling under corruption and CS should come clean on it. "He (Chief Secretary) shouldn't make his tongue so loose," Mehbooba added.kns