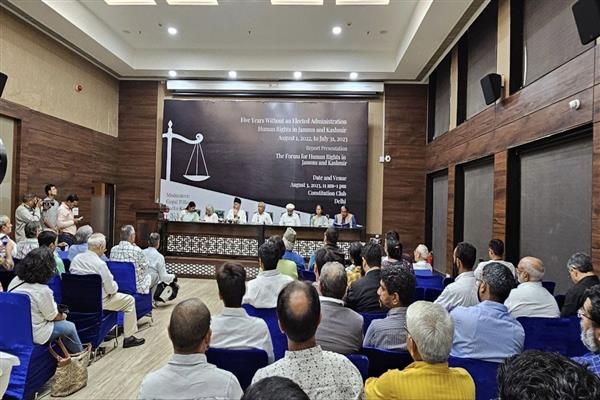 Srinagar, 03 August: The Jammu and Kashmir National Conference President and Member of the Parliament from Srinagar Dr. Farooq Abdullah on Thursday said that India is for all irrespective of their religion, race or region.
This he said while addressing an event organized by the Forum For Human Rights in J&K, New Delhi at the Constitution Club, New Delhi under the theme "Five years without elected administration & human rights situation in J&K."
The event was moderated by Gopal Krishna Pillai and Prof. Radha Kumar (former Interlocutor). Number of distinguished speakers from politics, economics, social service and civil services participated in the discussion.
In his address as a Speaker, Dr. Farooq said, "J&K occupies a unique position in the country as it is the only Muslim majority state in the country. In spite of that it was Mahatma Gandhi's message of tolerance, unity which persuaded us to be part of India. Whatever is currently happening in the country is therefore a matter of great concern as it goes completely against the founding fathers of this nation."
Criticizing the government on its narrative regarding G20 summit in Srinagar, he said, "Holding G20 event in Kashmir will not benefit tourism in the Valley till Pakistan is not roped in for talks. Infiltration across the border will continue and all those who stand for nation will die. There is no substitute to talks with Pakistan. Some people might not like what I'm saying but that's the reality."
He further added, "The roads which were in bad shape for many years were repaired. The walls got a fresh coat of paint. The street lights started working. The question is whether we will benefit in terms of tourism arrivals from Western countries? That cannot happen till the situation improves and that will not happen till both India and Pakistan sit on a table and resolve all the pending issues amicably. The government wasn't able to take the visiting dignitaries to Dachigam, which is just 17 KM's away from Srinagar or to Gulmarg. The pomp and show was only confined to one designated route."