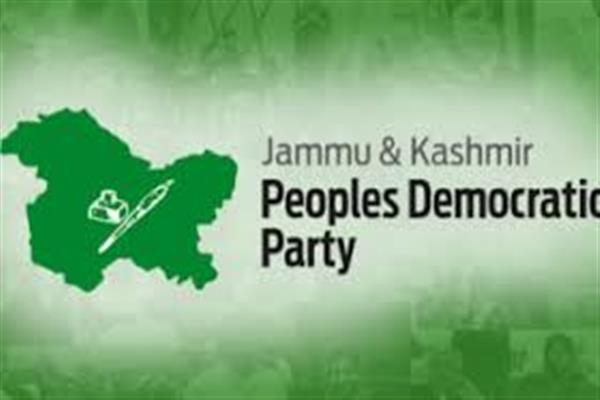 Srinagar, Nov 08: In the past four years, 19 MLAs, who were elected on PDP ticket in the last assembly polls of Jammu & Kashmir, have either resigned from the party or were expelled from it.
Banking on the anti-incumbency wave against the National Conference, Peoples Democratic Party (PDP) registered its best-ever poll performance in 2014 assembly polls by winning 28 seats.
Subsequently, the party entered into a power-sharing arrangement with the Bharatiya Janta Party for six years, but the alliance did not last for the full term as the latter withdrew support to Mehbooba Mufti-led coalition Government in June 2018, citing "deteriorating security situation" in Jammu & Kashmir.
Now out of 28 members who were elected on its ticket in 2018, only eight are left with the party.
Abdul Haq Khan was the 19th legislator of the last assembly of erstwhile state of Jammu & Kashmir to disassociate himself from Peoples Democratic Party.
Details available reveals that out of 19 former MLAs of PDP, 12 have joined Apni Party.
Apni Party was formed by businessman-turned-politician Altaf Bukhari after the abrogation of Article 370 and reorganization of erstwhile state of Jammu & Kashmir into two Union Territories.
In its maiden electoral test in 2020, Apni Party managed to win only 12 seats despite fielding its candidates on 172 seats across J&K.
Apart from Altaf Bukhari, former PDP MLAs who have joined Apni Party include Raja Manzoor, Yawar Ahmad Mir, Javid Hassan Baig, Noor Muhammad Sheikh, Javid Mustafa Mir, Abdul Majid Padder, Abdul Rahim Rather, Muhammad Ashraf Mir, Choudhary Zulfikar Ali, Qamar Hussain, Shah Muhammad Tantrey.
Four of them- three from north Kashmir- have joined Peoples Conference.
Those who have joined PC include prominent Shia leader and former minister Imran Reza Ansari, Muhammad Abbas Wani, former minister Syed Basharat Bukhari and Abid Hussain Ansari.
Muhammad Khalil Bandh, who won 2014 polls from Pulwama assembly segment, joined National Conference in 2019.
Former ministers, Haseeb Drabu and Abdul Haq Khan, who were elected respectively from Rajpora (Pulwama) and Lolab (Kupwara), have not joined any political party after quitting PDP.
Former CM Mufti Muhammad Sayeed, who was elected from Anantnag segment in 2014 polls, passed away in 2016.kno