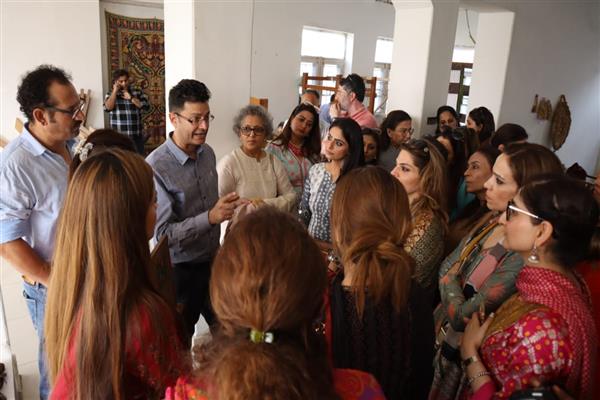 Srinagar September 11: In a move to build stronger ties, a group of 40 empowered female members of FICCI FLO group Amritsar today interacted with Director Handicrafts & Handloom Kashmir Mahmood Ahmad Shah at Kashmir Haat Srinagar.
The group was from Federation of Indian Chamber of Commerce and Industry FLO ladies wing which have over 18 chapters and FLO Amritsar which is having a strong presence of 350 empowered women as its members.
The group of female members was received by Amina Asad Chief Designer, School of Designs. While giving a brief of the activities, the team was amazed to see the rich collection of the centuries old prized Kashmir Handicrafts preserved at the institute and also minutely watched the master craftsmen of different crafts working on making the master pieces of their respective crafts. The chief Designer gave a short brief about the activities of the institute particularly about the digitization and design bank.
While interacting with the group ,the Director Handicrafts & Handloom Kashmir gave a detailed brief about the activities particularly the efforts Department is doing to promote the GI certified crafts through various mediums including FM stations and Advertisements at Country's major Airports.
The FICCI team assured support in terms of doing joint programs with the Department especially holding of some major exhibitions for the artisans of Kashmir Division in the coming winter at Amritsar.
The FICCI team was led by Shikha Sareen Chairperson and Manpreet Kour vice President Amritsar Chapter.