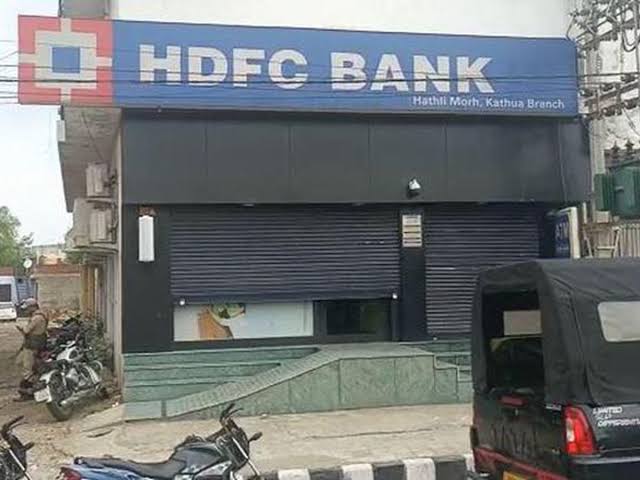 Kathua, Jun 21: Jammu and Kashmir police on Tuesday claimed to have solved the bank robbery case in Kathua within 24 hours by arresting one accused involved in the act. Police also said that the stolen amount of over Rs 1.53 crore was also recovered.
Addressing a press conference, Senior Superintendant of Police (SSP) Kathua RC Kotwal said that police has cracked the bank robbery case by arresting the accused and recovered stolen cash worth rupees 1,53,86290.
He added that on June 20, a case was registered in Police Station Kathua on the written complaint of the complainant namely Ashok Kumar (Branch Manager) HDFC Bank Ltd. Hatli Morh Kathua in connection with the theft at HDFC bank, claiming two unknown persons broke into branch premises through terrace door and tied up the branch guard namely Pankaj Sharma and successfully looted the money.
"While on checking they found rupees 1,6500,000 (approximately) missing from their branch for which a case vide FIR number 243/2022 U/S 458/392/34/IPC has been registered at PS Kathua," SSP said.
He added that a Special Investigation Team (SIT) was constituted under the supervision of Additional SP Kathua Suresh Kumar Chib and a police party led by DySP Headquarters Kathua Shammi Kumar alongwith SHO Kathua O P Chib and Incharge Police Post Hatli PSI Ranbir Singh succeeded in arresting one person namely Jagandeep Singh son of Deepak Singh resident of Ward number 14 Kathua.
During sustained questioning, he further disclosed that  the location of stolen cash as well as the name of another accused namely Sukhvinder Singh son of Waryam Singh resident of Ward No 14 Rishi Nagar, Opposite Govindsar Morh Kathua  who was also involved with him.
Meanwhile, in presence of Executive Magistrate Ist Class Tehsildar  Bikram Kumar and HDFC Bank Branch Manager Hatli Morh Ashok Kumar, the said accused namely Jagandeep Singh confessed his involvement in the case and on his disclosure, the police team was able to recover the cash amount of rupees 1,36,87250 from the residence of another absconded accused namely Sukhvinder Singh son of Waryam Singh and cash amount of rupees 16,99,040 recovered from another location thus by making a total cash recovery of rupees 1,53,86,290.
SSP said that search for absconded accused is going on while the further investigation is in progress.