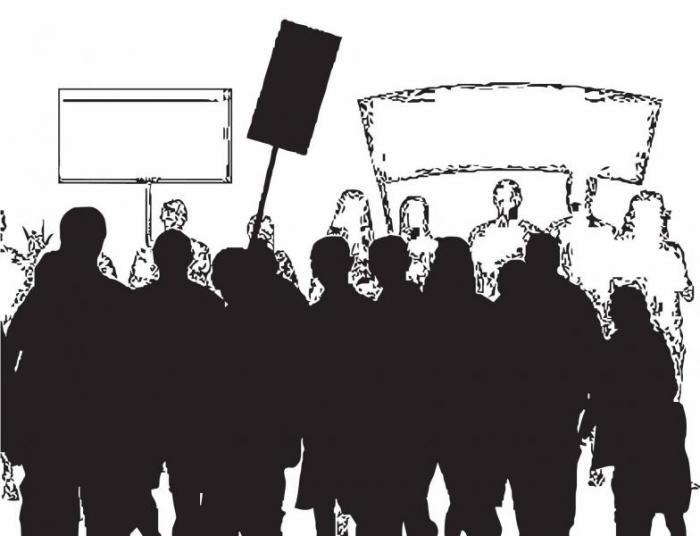 Jammu, Jun 21: Jammu and Kashmir Grameen Bank officials on Tuesday staged a protest against 'illegal' termination of their colleague for allegedly 'instigating' other employees against management.
Hundreds of Grameen bank employees assembled outside its headquarters in Narwal and raised slogans against the management for, what they said, 'illegal' termination of a colleague.
The protesters said that the Bank Chairman terminated Officer Satwinder Singh, who is also an officer bearer of Bank's Officer Association, for allegedly instigating other employees against the management.
They said that the officer sought protection and other facilities for the employees deployed in Kashmir, after Rajasthan based Bank Manager Vijay Kumar was killed by militants recently.
This angered the chairman of the bank and he immediately issued a show cause notice to Satwinder Singh without discussing with him why the services of Satwinder Singh should not be terminated.
The rural bank employees union jumped into support of sacked employees and wrote letters to Prime Minister Narendra Modi, Home Minister Amit Shah, Finance Minister Nirmala Sitharaman, Secretary Finance and Chairman J&K Bank for immediate intervention.
S Vekateshwara Reddy, General Secretary of All India Regional Rural Bank Employees Association (AIRRBEA) has sent a letter to PM Modi and other said that instead of standing and sympathizing with the employees, who are facing militant threats in Kashmir, management sacked homes employee for raising voice.
"Employees in Kashmir demanded adequate security from the bank management but the management, without arranging adequate security personnel in all the branches, ordered all the outside workers to return to the branch, action was taken against the union's office-bearer Satwinder Singh standing with the employees," the union said and demanded immediate reinstatement of Satiwainder Singh.
Pertinently, on June 2, a terrorist attack on a branch manager of the local Dehati Bank in Jammu and Kashmir took place.
Rajasthan based Branch manager Vijay Kumar had to lose his life in this incident. It is being told that Vijay Kumar was not a local resident of Kashmir, so he became a victim of the terrorist attack. After this, other outside workers working in the Kashmir Valley went to take shelter in Jammu from their branches.kno