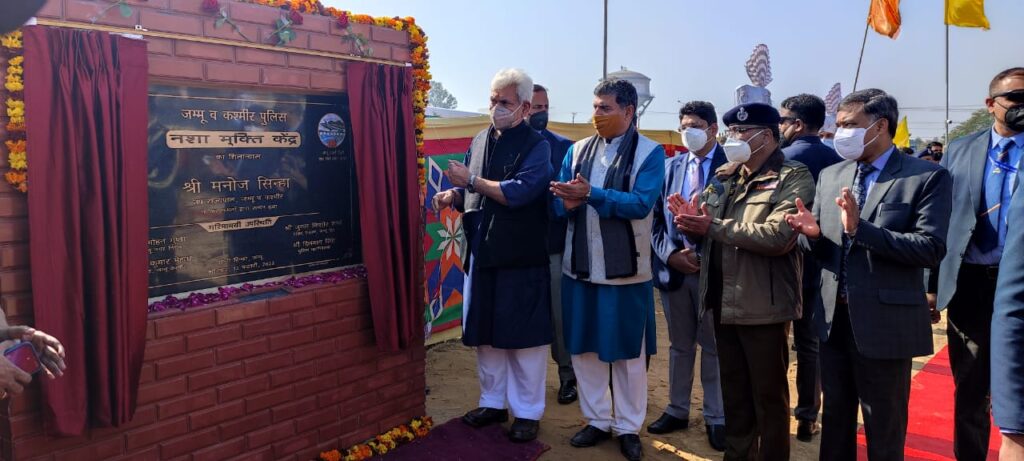 Jammu, Feb 12 : Jammu and Kashmir's Lieutenant Governor Manoj Sinha Thursday said that the neighbouring country Pakistan was sending huge consignment of drugs including narcotics into this side to ruin J&K's young generation under a well-planned conspiracy that is part of its "proxy-war."
Addressing a gathering after laying the foundation stone of drug de-addiction centre at Jammu, the LG said that rising use of drugs among J&K's youth is a bitter truth. "The growing drug abuse among youth is a big social challenge for us.  This is very unfortunate that our neighbouring country—Pakistan is sending huge consignments of drugs including narcotics into J&K to ruin young generation here," the LG said.
He said that after facing repeated defeats in back to back wars, Pakistan is now promoting "narco-terrorism." "This is a proxy war. We are fighting this challenge. Anti-Narcotic Task Force is dealing with the challenge along with Police and other security agencies effectively," he said.
He said narcotics are being sent here to promote militancy. "Let me tell you that security agencies have an upper hand as far as dealing with militancy is concerned," the LG said.
He said focus will remain on rehabilitation of drug addicts and also the prevention of drug use among young generation. "Police is doing a commendable role in preventing drug abuse while the social welfare department is also playing its part," he said, adding that "we need to form local level committees including Sarpanchs, Anganwardi workers and village elders to prevent drug abuse among youth."
He said that in the recent 100 incidents of crimes, it was found that 70 per cent youth involved in crimes were addicted to one or the other drugs.
Speaking on the occasion, Director General of Police (DGP) Dilbagh Singh said that narcotics sent here are to provide oxygen to militants. "Today, we see narcotics as a bigger challenge than militancy," the DGP said. "The money earned out of the sale of narcotics is being used to provide logistic and other support to militancy."
He said that police have been seizing huge quantities of narcotics and the money earned out of the narcotic sale. "But despite our efforts, I must say that we have to do much more to prevent the narco-terrorism in J&K as it is eating our society and young generation at a great speed," the DGP said.