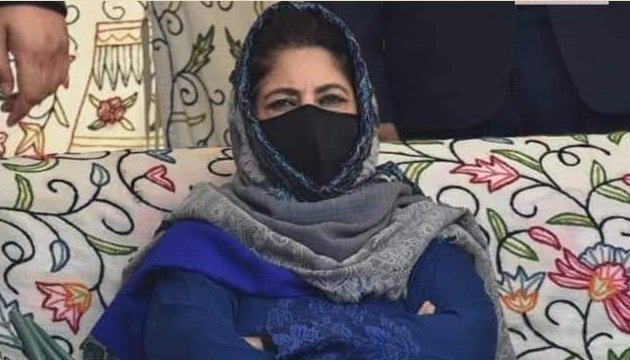 Kupwara, Feb 12: Former Chief Minister of J&K Mehbooba Mufti Saturday said that both delimitation draft in the region and Hijab controversy in Karnataka are aimed to benefit the motives of RSS and BJP saying that the proposed draft will benefit them only to come to power.
Mehbooba along with the party workers Saturday visited the Laderwan area of north Kashmir's Kupwara district where she also met several workers.
Talking to reporters on the side-lines of the visit, Mehbooba said that BJP wants to polarise the situation given the elections, and looks like it's a conspiracy to keep the girl child away from schools.
She said that the leaders across India will take a stand on this. "Hope that students don't get demotivated. The dress code is part of the culture. They are trying to convert this Gandhi's India minor Godse's India," she said adding that they want to make the lives of everyone difficult.
There seem to be two conspiracies in the Hijab row which include getting benefits in the UP elections and keeping Muslim girl students away from education.
Regarding the delimitation, she said that a mess had been created with the proposed delimitation draft and it's aimed to benefit BJP solely. "People in parts of the Jammu division are not happy with the proposed delimitation even in Pir Panchal and Chenab valley," she said.
Mehbooba said that they should have separated Poonch and Rajouri after 2026 and given them two separate Member Parliament seats for Pir Panchal and Chenab valley.
She further said that areas have been divided within even looking at the geographical connection.
"It's the agenda of RSS and BJP to divide the people of Jammu and Kashmir and disempower the region besides taking away all rights of people," she said.
Criticizing the recent withdrawal of posts by the J&K government, she said that why the posts been withdrawn and now the number of aspirants have will go higher. kno