Srinagar: National General Secretary of BJP Ram Madhav on Saturday blamed regional political parties and their leadership for creating Kashmir problem.
Addressing a workers convention in Dak Bungalow, Anantnag, Madhav said, "the 1987 Rajiv-Farooq accord is the reason behind the present deteriorated situation in the valley".
He added, "rigging of 1987 polls by Dr Farooq Abdullah became the only reason behind what is being witnessed today."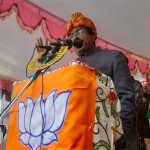 Blaming regional mainstream leadership for creating hurdles in the development of people, he said, "NC & PDP insisted people on boycotting Panchayat & Municipal polls by saying that these polls are a challenge to the identity of J&K."
Questioning both NC & PDP, about "if Panchayat & Municipal polls were an attack on the identity of the state, he questioned, "Are Parliament and upcoming Assembly polls not a threat to the identity of people? And if these are then on what grounds both the parties are contesting LS polls & going to contest upcoming Assembly polls."
Further targeting regional mainstream leadership he said, "local leadership is used to saying one thing in New Delhi & totally different things in Srinagar".
Appealing people of South Kashmir to vote in favour of party's candidate for Anantnag LS constituency Sofi Yousuf he said, "time has come for people of this domain to give chance to developmental politics instead of conflict politics."