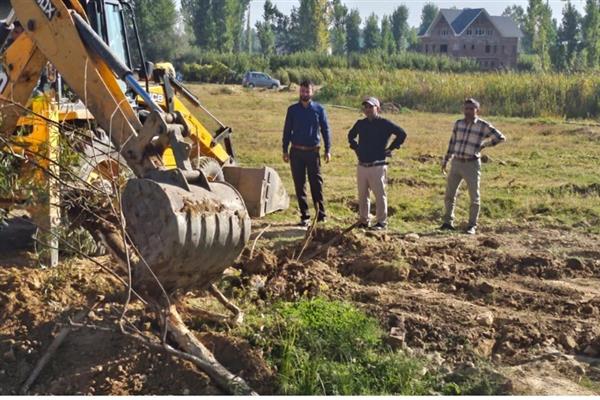 SRINAGAR OCTOBER 05:- The District Administration Srinagar on Thursday undertook major anti-encroachment operations across the District to retrieve Government Land from the illegal occupants and reclaimed over 71 kanals of prime State/ Kahcharie land worth crores from the land grabbers.
The Anti-encroachment operation was launched in all 7 Tehsils of the District including, Eidgah, North Srinagar, Panthachowk, Khanyar, South Srinagar, Central Shalteng and Chanapora Tehsil.
The special anti-encroachment Squads constituted by District Administration Srinagar headed by respective Tehsildars conducted massive anti-encroachment drives while taking assistance of Police and other Departments.
A team of Revenue and Police Officers/Officials headed by Tehsildar North, Kaiser Mehmood launched a massive anti-encroachment drive in Batpora, Shalimar and Syedpora Bala villages and retrieved 14 kanals and 5 marlas of State/Kacharie land from the land grabbers under survey no. 1604, 1605, 76 min and 37 min.
Similarly, in a major anti-encroachment drive launched at In Khanyar Tehsil 35 kanals and 9 marlas of State land was also retrieved in Brane villages under survey no. 4929/399/2744 under the supervision of Tehsildar Khanyar, Aailya Tabasum.
In Lasjan village under the supervision of Tehsildar Pantha Chowk, Rakib Ahmad as many as 5 kanals and 5 marlas of land was retrieved under survey no 27/1 and 142 min at Zawoora and Lasjan areas of the Tehsil.
Likewise, in Zoonimar village in Eidgah Tehsil, a Revenue Team headed by Tehsildar, Ishfaq Ahamd Khan retrieved 08 kanals of State land under survey no. 1266 Minworth Rs 40.74 crore from the illegal occupants.
In South Tehsil of the District, a team headed by Tehsildar, Moean Azhar conducted an anti-encroachment drive in Shivpora area retrieved 27 marlas of land under survey no. 168 min and 169 min from the encroachers.
Similarly, in Gund Hassi Bhat and Khushipora villages of Central Shalteng Tehsil 02 kanals and 09 marlas of State Land has been evicted under the supervision of Tehsilda Shalteng Kaser Ahmad from the land grabbers under survey no. 156min and 895/281.
In Chanapora Tehsil as many as 05 kanals of State land was also evicted from land grabbers in Rawalpora village under survey no. 1959 and 1960 under the supervision of Tehsildar Chanpora, Saqib Saleem.
With regard to anti-encroachment drives undertaken in Srinagar District today, the Deputy Commissioner Srinagar applauded the efforts of the Anti-encroachment squads and has asked them to continue the anti-encroachment drives in their respective jurisdictions to retrieve the encroached land which in normal course is to be utilised for public purpose.