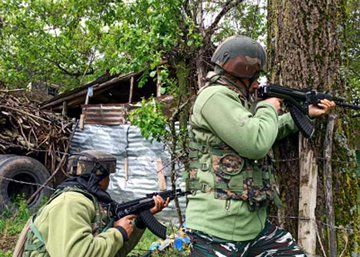 Jammu, Aug 06: A militant has been killed as the encounter in Gundha-Khawas village of Rajouri district entered the second day, officials said here on Sunday.
An official said that the encounter broke out yesterday, during which one unidentified terrorist was killed while operation was going on.
Jammu-based Army PRO Lt Col Suneel Bartwal said two to three militants are believed to be holed up and their repeated attempts to break the cordon have been thwarted.
Officials said that more reinforcements have been called in to plug all escape routes and efforts are on to neutralise the terrorists.
They said special forces were brought in by Indian Air Force helicopter, while night enabled Quadcopter, Unmanned Aerial Vehicles and sniffer dogs were also pressed into service.
Meanwhile, Police have issued an advisory asking people to stay away from the encounter scene to avoid any untoward incident.
"It is for the information of all that the operation is in progress with exchange of crossfire in the general area of village Gundha, Khawas. People are advised not to visit the area and remain at a safe distance of at least two km outside the periphery of the area," the advisory reads.