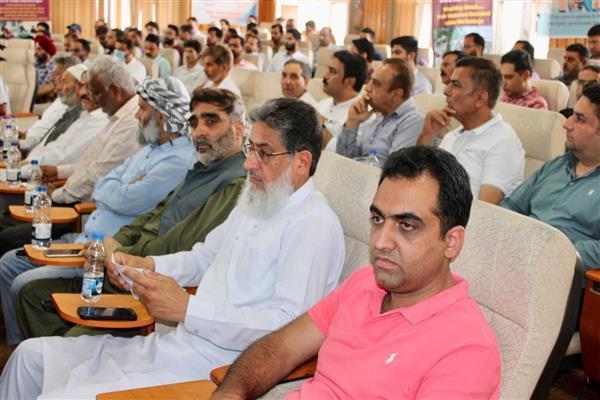 Srinagar, July 04 : Kashmir Traders & Manufacturers Federation (KTMF) called for a simplified and a trader friendly tax system here at a function on part of GST week celebrations.
The event was organised by State Taxes Department with Stakeholders at Excise & Taxation Complex Solina.
President KTMF Mohammad Yaseen Khan in his address to the officials of State Taxes Department said much more needs to be done to make GST a simplified and rationalised tax system. He said before the introduction of GST business community was skeptical about its implementation as it would have adversities on our businesses due to complex taxation system.
He said traders were promised in all the seminars and the meetings that during the first few years of the GST it will be treated as educational period and no penal action will be taken on the trade for all small clerical mistakes done unintentionally. But surprisingly we are receiving all sorts of notices under all the possible sections of the GST rules.
Khan said, "GST must be easy to manage and also not increase the cost of doing business. While it may be frustrating to experience many issues and the potential impact on business, it is encouraging that the State Taxes Department is actively seeking to address the problems and find solutions. Continued communication and sharing of experiences between traders and the department will be essential in resolving these challenges and ensuring a more efficient and reliable taxation system in coming times. In this regard we propose Government to organise a Stakeholders Consultation in every financial quarter with a view to offering feedback to the department. This consultative and collaborative approach is instrumental in making responsive and responsible policymaking".
While highlighting the challenges Khan said, "there have been reports from various traders that they face immense hardships once it comes to fresh GST registrations. We would suggest it to be made hassle free and trader friendly to widen its revenue and tax base. Also unnecessary blocking of our goods enroute Kashmir for days together is a major challenge. We urge State Tax Department to take up this with National Highway Authority and other concerned departments to facilitate swift transportation of our goods to this part of country ".
?The session was presided over by Additional Commissioner State Taxes Kashmir Shakeel Maqbool who gave a patient hearing and assured the stakeholders of a greater coordination between the business community & the State Taxes Department for a productive and healthy taxation environment. Besides Khan, KTMF was represented by Bashir Ah Kongposh, Lateef Ah Sofi & Qazi Tauseef. DC Enforcement (Central)Parveez Raina, DC IT Analytics & Economic Intelligence Farooq Ahmad Baba, DC Appeals I & II, Assistant Commissioners, State Taxes Officers, Inspectors, Sub inspectors and other officials of the department attended the session.