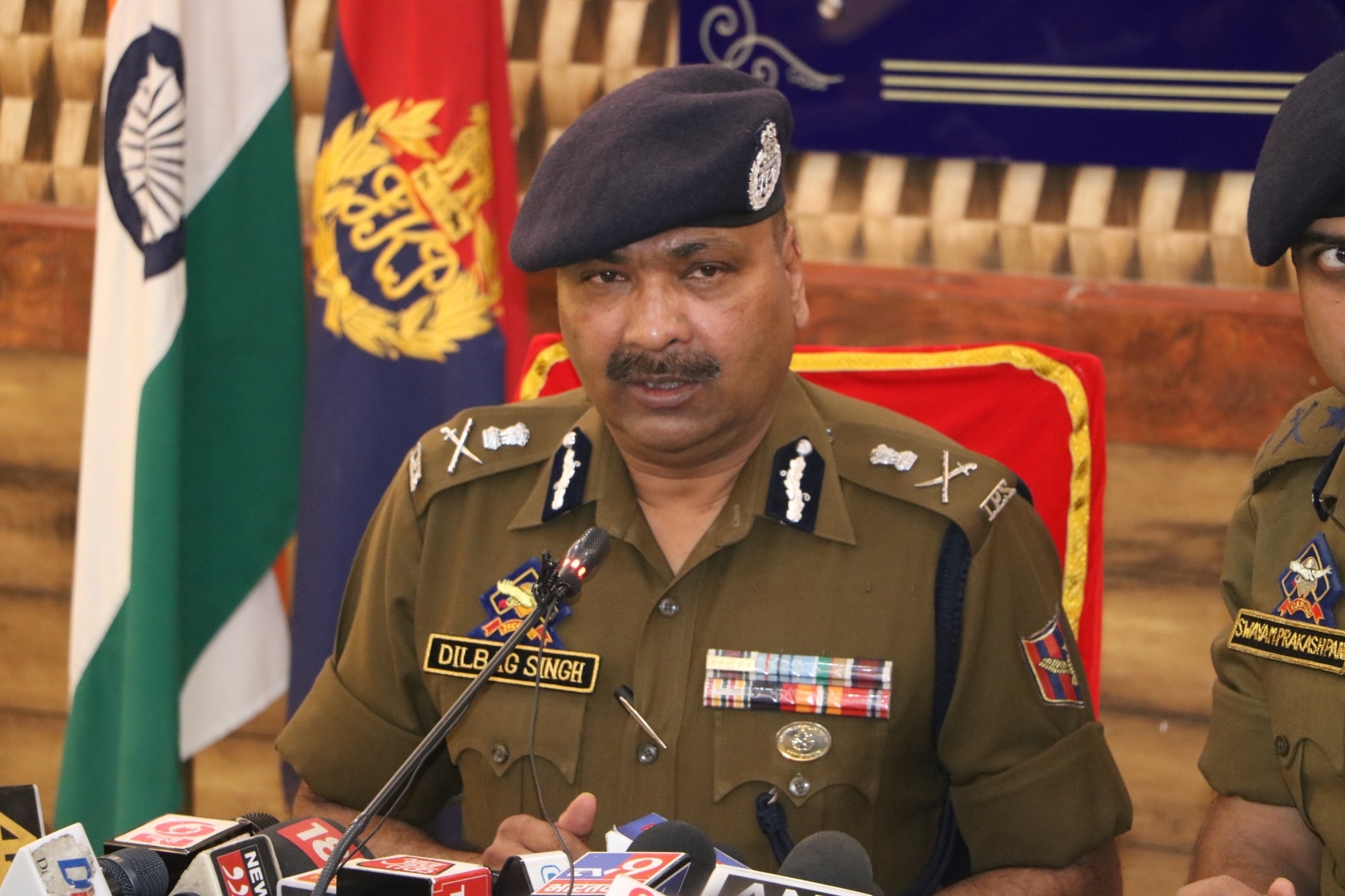 Srinagar, Jan 17: Jammu and Kashmir police chief, Dilbagh Singh on Tuesday said that police have got some vital clues with regard to the Rajouri attacks and that the success will be achieved soon.
While talking to reporters on the sidelines of closing ceremony of J&K Police Martyrs Memorial Football Tournament at TRC Srinagar, Director General of Police (DGP) said that police have got some vital clues during the investigation.
"The area is close to the forest and after frequent militant sightings, four-five unsuccessful operations have been launched. As far as investigation is concerned, we have got some solid clues and the arrests will be made soon. I hope that the success will be achieved soon," he said.
Asked about security measures for Republic Day celebrations and Bharata Jodo Yatra, he said that a meeting in this regard was held today in which top officers participated. "We have taken adequate measures and peaceful R-Day celebrations will be ensured," he said.
He also added that for yatra, adequate security arrangements are also being made across Jammu and Kashmir.
DGP also said that "the main character behind terrorism in J&K and other parts of the country from across the border is being exposed at international level. The measures are being taken to tighten up the process against the involved people and notify them as terrorists. The profile of these persons is also being sent to the different organizations working against the terrorism."
DGP Reviews Security Situation Ahead Of R-Day In Kashmir
Dilbag Singh  chaired a meeting of senior officers of Kashmir Zone to review the crime and security scenario of the valley,  a police spokesperson said in a statement.
The meeting was attended by ADGP Kashmir Zone Vijay Kumar, DIG CKR Sujit Kumar, SSP Srinagar Rakesh Balwal, SSP PCR Zubair Ahmad Khan, SP Operation Srinagar at PCR, Srinagar while DIG NKR Vivek Gupta, DIG SKR Rayees Mohammad Bhat and other District SSsP & other Gazetted officers, AIG (T&P) J S Johar attended the meeting through video conferencing.
"Addressing the officers the DGP complimented them for successfully achieving various goals which were set for the year 2022," the spokesperson said, adding, "He enjoined upon them to rigorously follow basic policing methods including human intelligence generation, record keeping and maintenance of Registers at Police Stations as per Police Rules."
He said that action against militancy ecosystem must be carried forward meticulously and in a coordinated manner. "Although JK Police along with other forces have got successes across Jammu and Kashmir against the (militants), stringent actions against the (militant) support system, narcotics and narco (militancy) modules should be continued with an aim to bring an end to it," DGP said.
The DGP stressed upon the jurisdictional officers to ensure direct supervision of UAPA, NDPS and other special reported cases so that the investigation and disposal of all pending cases as well as of new cases are brought to logical conclusion on priority.
The DGP directed that the quality of investigation and disposal of these cases needs to be further improved. "He stressed for adopting the latest technology and standard practices to expedite investigation of cases on merits for judicial determination and directed the jurisdictional officers to hold regular review meetings to ensure better supervision and public deliverance."
The DGP also said public cooperation has helped to make our efforts fruitful in maintaining law and order, the spokesperson said.
"He reiterated that the support of the community is essential to maintain a (militancy) free environment and more and more public cooperation should be ensured by prioritizing community-based programmes," he said, adding, "He directed the officers that all possible help should be extended to the public as and when required."
Reviewing the arrangements for the upcoming 26 January functions, the DGP directed for ensuring all required and necessary security arrangements are in place. "He directed for coordination & synergy among all the stakeholders," the spokesperson said, adding, "He directed the officers that while dealing with any situation they should ensure that law-abiding people are not put to any inconvenience during their day-to-day activities." The DGP also directed for stringent action against OGWs or anyone supporting militancy, or narco militancy modules in the J&K, he said
ADGP, Kashmir Zone, Vijay Kumar briefed the DGP J&K about crime and security scenario in Kashmir zone, the spokesperson said. "Range DIsG and District Superintendents of Police of the Zone also gave detailed resumes of crime, and security scenarios in their respective jurisdictions."
ADGP, Kashmir Zone, Vijay Kumar briefed the DGP J&K about crime and security scenario in Kashmir zone, the spokesperson said. "Range DIsG and District Superintendents of Police of the Zone also gave detailed resumes of crime, and security scenarios in their respective jurisdictions."