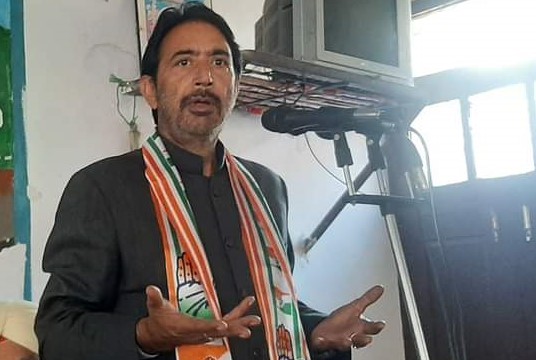 Kulgam Jan 7: Stating that Congress Party is fully capable to overcome divisive and exploitative politics of BJP in the Country, Former J&K Pradesh Congress Committee President Ghulam Ahmad Mir vehemently urged upon people to come forward to support Congress Party in its endeavors and commitment to ensure dignified life and justice to people of J&K.
Mir also sought people's participation at large scale in the upcoming Bharat Jodo Yatra, which is scheduled to enter J&K by 20th of this month,terming it a fight against hate and divisive politics of BJP.
Mir was addressing a largely attended public gathering at Panzeth in Qazigund area of Kulgam District where a prominent political figure DDC Member of Vessue (Qzd) Bilal Deva Joined Congress Party along with his hundreds of workers & supporters, assuring to strengthen Congress Party for the inclusive development of J&K.
Addressing the gathering Ghulam Ahmad Mir expressed hearty gratitude to people and Congress workers for their overwhelming response and their presence in the meeting, terming it a strong message to BJP and its undeclared associates that their divisive and exploitative politics won't last long, as that, people have realized that there is no alternative to Congress Party which is fully committed to a dignified life to people while standing guarantee to safeguard democratic rights of every citizen irrespective of their caste, colour or religion,living in the country.
Mir said Bharat Jodo Yatra is a greatest initiative of Rahul Gandhi to overcome the hate politics and get rid of the wrong and divisive policies confronting Nation,terming BJPs agenda of dividing people on religious lines detrimental to the idea of India, which will be defeated by the Congress Party.
Former JKPCC President extended his fervent appeal to cross sections of society including socio political groups, NGOs and other right-thinking people to join Bharat Jodo Yatra, which is set to bring a change, assure peaceful and friendly atmosphere and defeat political exploitation in the country.
Congress believes in transparent and principal-based politics, It will continue to perform its duty of serving and uniting people, which is the core of its pro people programmes and policies, Mir added and assured that the Party (Congress) will do everything to ensure justice and safeguarding democratic rights of people.
Senior Congress Leader Surinder Singh Channi, DCC President Kulgam Farooq Ahmad Bhat, Abdul Rashid Lone, Mohd Iqbal Mir, Zaffar Farooq Salati and various other leaders addressed the public gathering.
Former JKPCC President, Senior Leader Surinder Singh Channi and other Party leaders welcomed Bilal Deva into Congress Party. kns