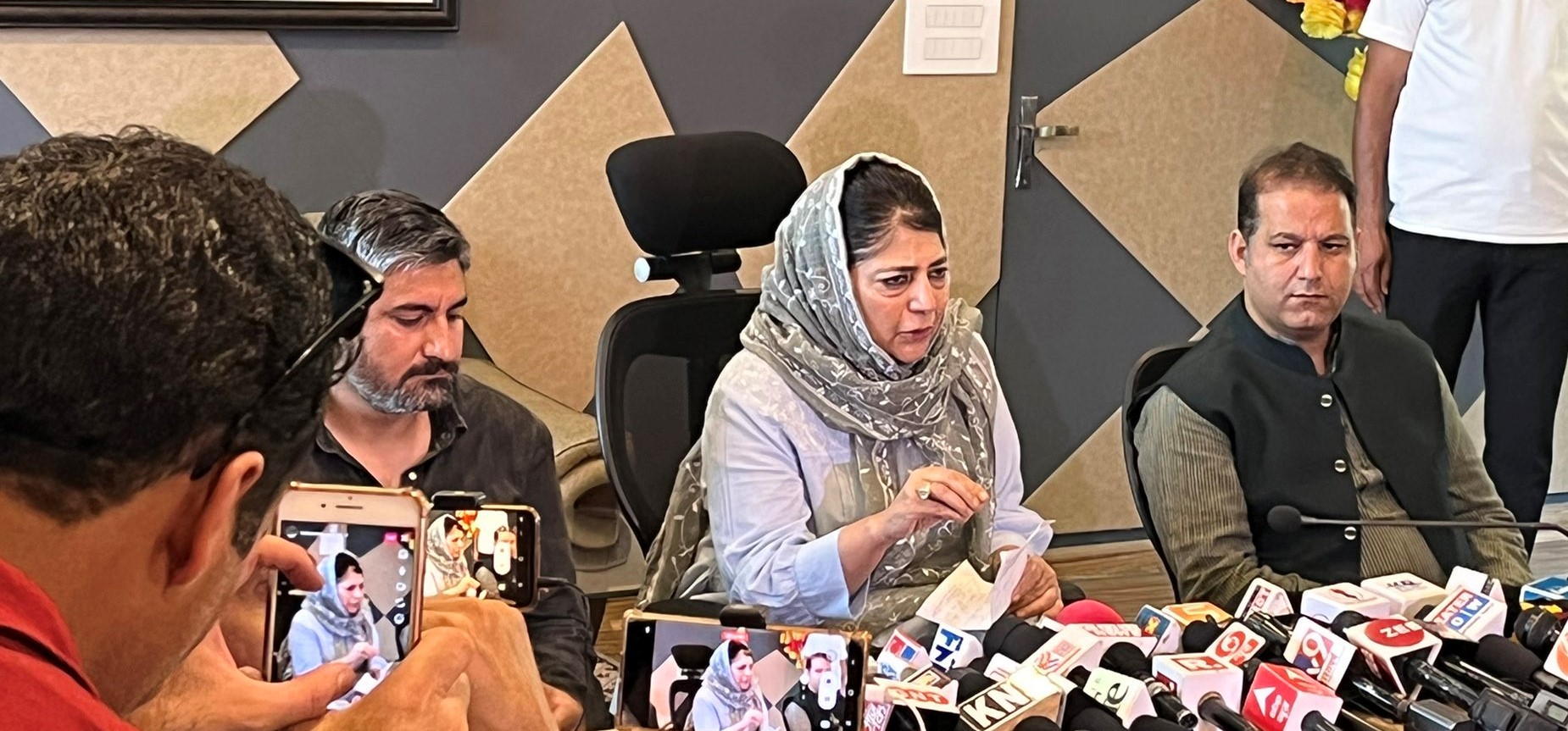 Anantnag, Jan 07: Peoples Democratic Party (PDP) president and former chief minister Mehbooba Mufti on Saturday said that Late Mufti Mohammad Syed was desired to make J&K a "bridge" between the two nuclear powers of the sub-continent, India and Pakistan in order to overcome challenges facing by the two neighboring countries.
"Late Mufti Mohammad Syed was a visionary leader and a statesman who wanted J&K to act as a bridge between the two neighboring countries, India and Pakistan in order to overcome the challenges which both countries are facing currently", Mehbooba Mufti said while addressing party workers in south Kashmir's Bijbehara where she paid homage to her father on his death anniversary.
Mehbooba said Late Mufti was much concerned for their people and pressed every possible effort to ease out the sufferings of people living on both sides of the Line of Control (LoC).
"The PDP founder Late Mufti Mohammad Syed opened Muzaffarabad and Rawalokote tracks and paved ways for smooth trade and connect between the people living on both sides of the LoC", Mehbooba said.
"The J&K had become a battleground where graveyards at every nook and corner were filled. Thousands of children were orphaned and women had become widows. Keeping this situation into account, the Late Mufti Syed took visionary steps and brought some respite to people of both sides of LoC through his coherent toil", Mehbooba said.
Taking a dig at BJP government, Mehbooba Mufti said J&K shook hands with secular India whose leaders protected the sanctity of Hindu – Muslim brotherhood in their times. "India's first PM Pandit Jawahar Lal Nehru made this country a secular and J&K acceded to the Union of India on secular lines. But unfortunately today BJP not only destroyed J&K constitution but bulldozed country's constitution as well", she said.
She alleged that BJP not only damaged the secular fabric but also destroyed every institution of the country. "Today courts hesitate to deliver bail to innocents. Besides media is not allowed to rake up voice of suppressed", she asserted.
The PDP president said that J&K has been turned into a "military garrison" and instead of declining the numbers; more troops are being brought to J&K. "J&K has become a military concentration camp currently. We have no difference with Army. They played their role. However if BJP claims normalcy has returned to J&K, so send these troops back to their barracks and remove harsh laws like AFSPA and others. Instead you are bringing more troops here and placing weapons in the hands of locals of border districts in Jammu which disputes the normalcy claims of the government", Mehbooba said.
She alleged that today's India has become Godse's Hindustan to whom we didn't shake hands to. "BJP want to convert secular India into Godse's Hindustan. The situation is going bad to worst with the passing of every day. Injustice is at its peak. Youth being detained unnecessarily and employees being terminated and arrested without any logic", she said.
While addressing at the grave of PDP founder Late Mufti Mohammad Syed, the PDP president urged party workers to be enough strong and do not lose your passion.
Recollecting the contribution of Late Mufti Mohammad Syed, the PDP president Mehbooba Mufti said when he (Late Mufti) was Home Minister he talked to separatists who were lodged in Tihar in order to make a conducive atmosphere in the region and give least chance to violence to occur.
"Like past, PDP in 2016 brought country's top leadership to Kashmir who knocked doors of Hurriyat for confabulations but Hurriyat responded the way BJP currently is responding to realities and thus lost an opportunity to give peace a change in J&K", she said.
She said that Late Mufti Syed believed that a country cannot win a battle against its own people. "The way BJP destroyed constitution of Jammu & Kashmir they will obliterate the country's constitution in the same way in times to come", she said and asserted, "BJP will change the tricolor into Bhagwa flag in future". (kns)