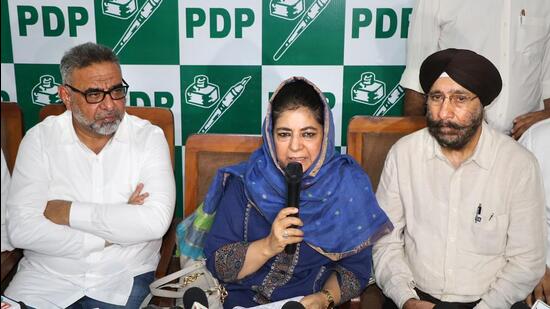 Srinagar, Oct 22: Day after getting the eviction notice, PDP president and former Chief Minister Mehbooba Mufti on Saturday said that she will vacate the government accommodation.
While talking to reporters after holding Fateh prayers at her father's grave in Bijbehara, Mehbooba said that she is going to vacate the government accommodation as it was not a big thing for her.
She said that there was no need to hold discussions on her accommodation issues rather media should hold discussions on the issues of public importance.
The PDP chief alleged that Imran Bashir Ganie, a youth from Shopian was killed in Police custody but there was no discussion on it.
"I am not surprised by the issues that the government is denying passports,  ED investigation and eviction notices. I am surprised over the media who are holding discussions on such things which have no public importance and no discussions are being held on such issues which have public importance," she said.
The Government has asked PDP chief and former chief minister of erstwhile J&K state Mehbooba Mufti to vacate Fair View Guest House at Gupkar road.
Mehbooba, who headed PDP-BJP coalition government before the saffron party withdrew the support, has been offered alternative accommodation if she "requests" on "security or any other ground".
The notice sent to Mehbooba on October 15 this year has been issued under sub-section 1 of the section 4 of the Jammu and Kashmir Public Premises (Eviction of Unauthorized Occupant) Act, 1988 read with the Amendment Act 2016, the official sources tsaid
The Guest House was declared "sub-jail" when Mehbooba Mufti was shifted from Transport Yard building here while she remained booked under Public Safety Act (PSA) in the aftermath of the Article 370 revocation.kno