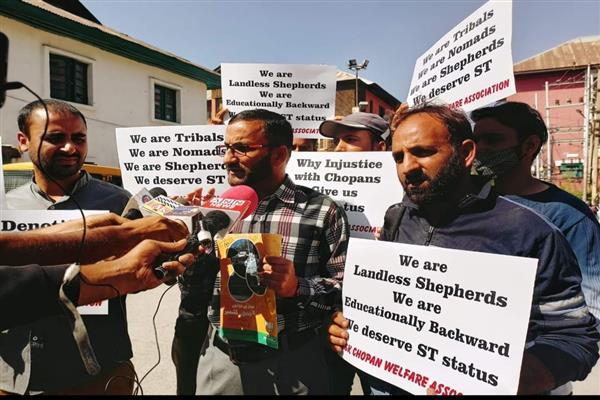 Srinagar Oct 4: As the Government of India is planning to give Scheduled Tribe (ST) status to Pahadi community in J&K , the Kashmiri Chopans who work as traditional shepherds protested on Tuesday in Srinagar and demanded that their community be included under the ST category. They have appealed Home Minister Amit Shah to look into their issue with human heart
Scores of activists from Chopan Welfare Association assembled in the Press Enclave on Tuesday and held peaceful demonstration against granting ST status to Pahadis.
"Chopan Community rears Sheep of other Communities and is locally called"POHAL " . We are a downtrodden community , educationally and economically backward as well . We are only 2 lakh people in J&K having no land at all and our literacy rate is not even 30 % . Don't we deserve to be scheduled tribe?" said a protestor Basharat Chopan from Watrihail Budgam
The Chopan Welfare Association has been fighting for the ST status for Chopans for the last 26 years and got a resolution passed by the Legislative Assembly of J&K in 2000 .
"The file for grant of Scheduled Tribe status to Chopans was put forward to the Ministry of Tribal affairs Govt of India by the then Chief Minister of J&K through J & K Social welfare department on 10th October 2000 . The Ministry of Tribal affairs Govt of India is now seriously looking at our demand. We were shocked when we came to know that Pahadis are being given ST status and we are being dropped . This is injustice with us. We appeal Home Minister Amit Shah to look into our issue with a human heart as we are only 2 lakh people in J&K and Pahadis are more than 10 lakh in number with good socio economic status " said Abdul Ahad Chopan senior leader of Chopan Welfare Association. kns