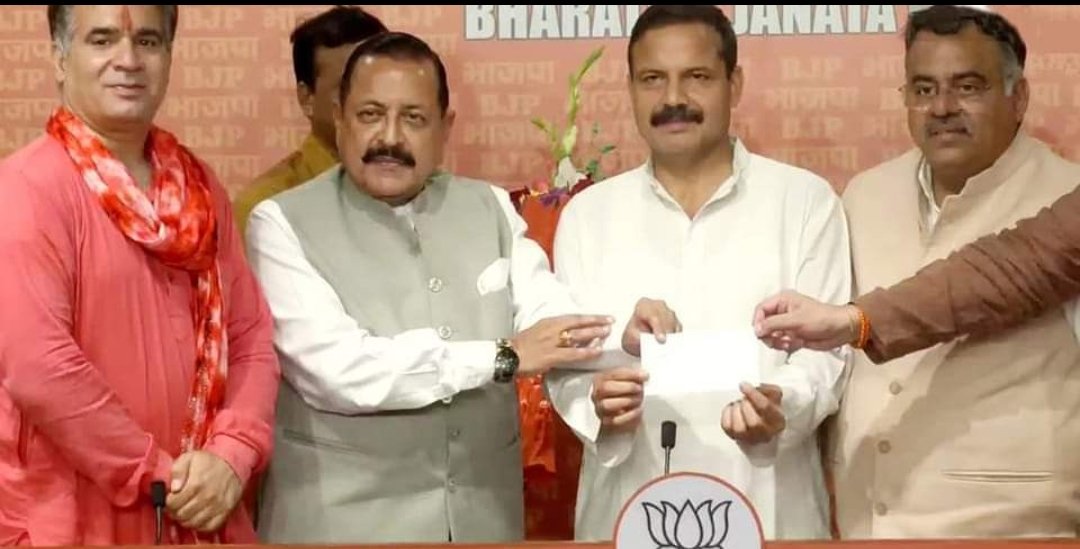 Jammu, Sep 29: Firebrand leader of Jammu Kashmir Panthers Party and two times MLA from Udhampur constituency, Balwant Singh Mankotia, joined Bharatiya Janata Party (BJP), a week after he was thrown out of Aam Aadmi Party (AAP).
Mankotia, joined the ruling national party in the presence of BJP National General Secretary & J&K BJP Incharge Tarun Chugh, J&K BJP President Ravinder Raina, Union ministers Dr. Jitendra Singh and Rajeev Chandrasekhar at Delhi party headquarters.
Initially Mankotia headed family run Jammu and Kashmir National Panthers Party (JKNPP), who was founded by his maternal uncle and veteran politician Prof Bhim Singh.
Mankotia developed differences with his cousin and chairman of JKNPP Harsh Dev Singh, after which he publically announced registration in 2021.
However, Mankotia, a two-time MLA had initially joined the AAP in April this year along with hundreds of supporters. Harsh Dev Singh also joined AAP a week later after that Balwant Singh Mankotia become political inactive in AAP. Prof Bhim Singh died in May this year after prolong illness and till the time both his nephews, whom he groomed in politics had left the party.
After death of Prof Bhim Singh, Mankotia one said that if he knows the Harsh Dev will not run the JKNPP and leave it. He could not have left Professor's party. However, AAP in on September 23 terminate Mankotia from its party.
Days after uncermonized exit, Mankotia found new love in BJP.
On joining, Tarun Chugh said Mankotia is joining the BJP as he is inspired by the leadership of Prime Minister Narendra Modi, the most selfless leader in the world. Ravinder Raina appreciated the decision of Balwant Singh Mankotia to join the BJP and said that the party is of the firm belief that his political and social experience will benefit the party and the people at large by working in accordance with the party principles.kno