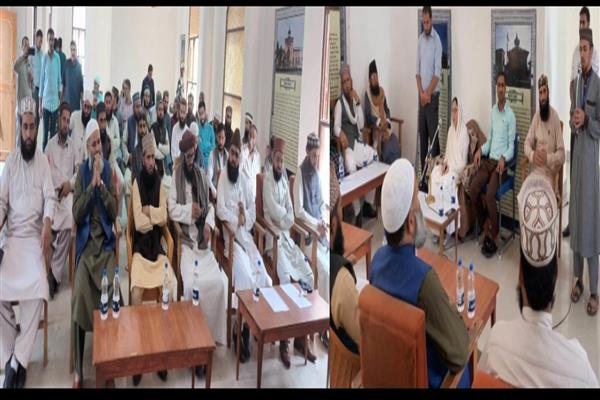 Srinagar August 28: Chairperson of Jammu & Kashmir Waqf Board Dr Darakhshan Andrabii today addressed a gathering of Islamic Scholars at Nigeen Club in Srinagar.
The event was organized by Sunni Ulema Council J&K in which Islamic scholars from all the districts of J&K participated.
The Ulema presented a Memorandum in which they gave their suggestions about streamlining the Waqf Management system in all the areas of the UT.
The president of the Council Maulana Basharat Hussain Saqafi thanked Dr Darakhshan Andrabi & the Waqf Board for its recent decisions to cleanse the working system at all Sufi shrines of J&K & also for the steps to make the Waqf in J&K a productive enterprise by restructuring the rent & allotment system of Waqf properties in the UT.
Maulana Saqafi said that for the first time the whole of J&K is praising the steps taken by the Board.
Dr Darakhshan was accompanied by Chief Executive Officer of Waqf Board Dr Syed Majid Jahangir.
Dr Andrabi hailed the scholars and  preachers for their united initiative to support the path-breaking decisions of Waqf.
In her address Dr Darakhshan Andrabi said that the Board has decided to take all tough steps to manage the great sufi shrines, the assets and properties of the Board as per the Central Waqf Act at all costs so that the trust of the people in J&K Waqf Board is established again.
"I thank the people for their support of Waqf Board decisions to cleanse the system of illegal practices, misuse of public donations at our shrines. Within a few months, we are fixing CCTV cameras at all shrines," said the Waqf Board Chairperson.
Dr Andrabi said that as per Central Waqf Act residential lease of Waqf properties is null & void & so the Board has started the legal process to vacate all residential leased properties which have been distributed to the influential on political considerations