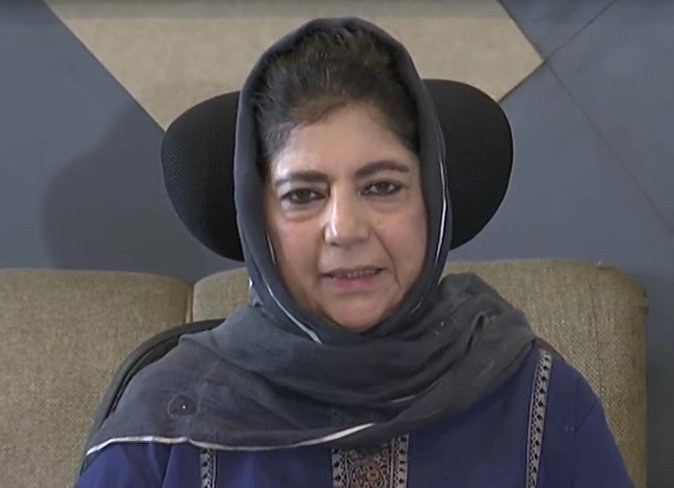 Srinagar, August 18: Coming down heavily on the ruling BJP, the former Chief Minister of Jammu and Kashmir Mehbooba Mufti Thursday said that the latest 'diktat' from Chief Election Officer to allow outsiders to vote in Jammu and Kashmir is the last nail in the coffin of electoral democracy.
Mehbooba Mufti was addressing a press conference at her Gupkar-based residence in Kashmir capital Srinagar.
Hitting BJP left right and center, Mehbooba said that Jammu and Kashmir have become a laboratory for BJP.
"The new diktat from Chief Election Officer to give voting rights to outsiders will enable BJP's 25 lakh non-local voters to vote for it. Democracy has been already trampled in Jammu and Kashmir. This Muslim majority state acceded to India keeping in view its democratic and secular credentials but from time to time democracy was trampled and people lost faith in the electoral system. But in 2002, with the efforts of the then Indian Prime Minister Vajpayee, there were free elections in 2002, and people to some extent started believing in the System. BJP has now ruined everything."
She made a fervent appeal to liberals and to those who are secular and fought to safeguard the Constitution of India to ponder over the policies of the BJP in Jammu and Kashmir. "These people should understand that BJP is befooling them. The claim of the BJP that everything being done in Jammu and Kashmir is in the national interest is a hoax. Nothing is being done for the national interest but everything is being done for BJP interest."
Mehbooba Mufti said BJP annulled the special status of Jammu and Kashmir unconstitutionally. BJP subverted Indian Constitution in the garb of national interest but this party has been only advancing its own interests, she said.
"BJP indulges in rigging using money and muscle power. Sometimes rigging takes place during elections and sometimes post elections. We all are witnesses to what happened in Goa, Madhya Pradesh, Karnataka, Maharashtra, and now Rajasthan and Jharkhand are in line."
She said BJP wants to de-franchise the people of Jammu and Kashmir. "When 25 lakh voters from outside will vote in Jammu and Kashmir for BJP then what is the value of the vote of Kashmiri and Jammu people," she asked.
Stating that grabbing power is the sole motive of the BJP, Mehbooa added that BJP uses EVMs, money, and power to dethrone every government elected by the people.
"BJP wants to install a local Fascist in Jammu and Kashmir to advance the interests of the party. BJP has been ruling Jammu and Kashmir directly for last 3 years but failed to break the resolve of people of Kashmir."
She alleged that BJP wants to change the demographic character of Jammu and Kashmir and warned that this will not only affect the Muslims of Kashmir but will prove disastrous for the Dogras of Jammu and Kashmiri Pandits.
She said the BJP which claims to be the messiah of Pandits has made things complicated for them.
"BJP advanced its interests using the pain of Kashmiri Pandits," she added.
Mehbooba said that BJP is implementing the policies of Nazi Germany and Israel in Kashmir and wants to gain votes across India by forming a government in Jammu and Kashmir.
"Let me tell the BJP, Hitler crossed the limits of suppression but failed to eliminate the Jews and Israel which has let loose a reign of terror in Palestine has been failing to break their resolve. In the same BJP won't succeed in her evil designs till a Dogra and a Kashmir survive in Jammu and Kashmir".
"On the one hand BJP spends millions to de-radicalize youth of Jammu and Kashmir but on the other hand policies of BJP have been pushing the people to the wall and they get more and more radicalized. BJP has already crushed the people of Jammu and Kashmir, snatched their land, deprived them of a livelihood, repressed them in every way, jailed them, and stopped them from expressing themselves and now when the vote was the only tool they could use, that too was taken away indirectly from them," she said adding that the policies of BJP have made Kashmiri Pandits vulnerable in Valley.
She said ground reality never changes and the Kashmir issue has to be resolved sooner or later.
"BJP wants to turn this country into 'BJP Rashtra' and not 'Hindu Rashtra'.
"Those Hindu brothers whom BJP appease should understand the ground reality and sinister designs of this party. We must get united to halt the dangerous game being played by the BJP," she said adding that after 2024 elections, BJP will remove the Indian constitution, replace tricolor with 'Bhagwa Jhanda.
In response to a question, Mehbooba Mufti said that nowhere in India has ever happened that outsiders were pushed to vote. "This is not about illegality or legality but its all about the intention BJP is having," she said.
Mehbooba Mufti said that she has already requested Dr Farooq Abdullah to call an 'All-Party-Meeting' to deliberate on the issue and take a future course of action. "We should talk to even those parties whom with we have differences. I think we should now focus more on the 'Kashmir Issue' because BJP-like parties will always try to find a shortcut to suppress the people here," she said. knt