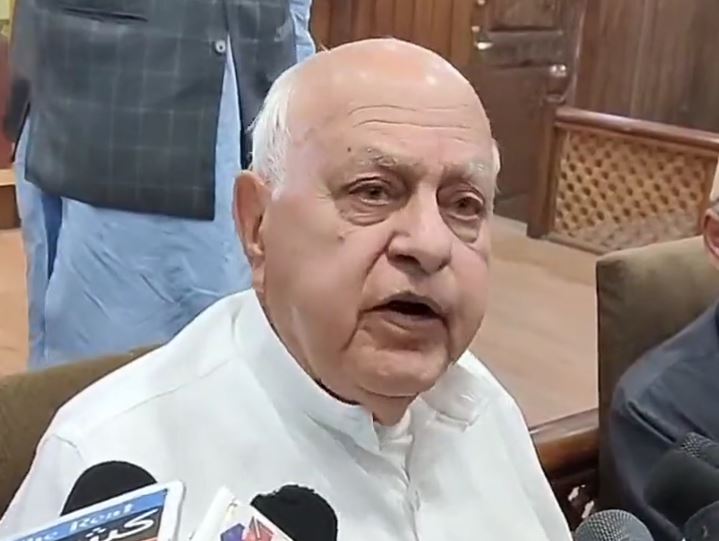 Srinagar, Aug 18: National Conference president Dr Farooq Abdullah on Thursday invited leaders of all political parties for a meeting to discuss the recent announcement by the J&K government regarding inclusion of non-locals in the voter lists.
"He personally spoke to the leaders and requested them to attend the meet at 11 AM on Monday (22nd August)," National Conference said in a tweet.
Later in the day party held a presser, terming the inclusion of outside voters in J&K electoral rolls as "clear-cut de-franchising of people of the erstwhile state" and underlined that no outsiders should be allowed to vote just because they come here temporarily.
Party's chief spokesperson Tanvir Sadiq told reporters here that there is no clarity on what the Chief Electoral Officer (CEO) has said regarding "ordinarily living citizen" and what is the criterion and or does it means a tourists can register their vote here?
He said there are apprehensions among the people, and the government should clarify the same.
The important point is that there are many states in the country where there are no elections yet. Those states can send their people here, register themselves as voters, then vote and then de-register themselves here, after which they will again register themselves in their own states.
"I have requested Farooq Sahib, being the senior most leader, to convene an all-party meeting to discuss the new developments for adopting a unified course of action to deal with it," she said.
The move of the election authorities to allow outsiders residing ordinarily for jobs, education or business in J&K as voters, she said, was "aimed at finishing off the democracy" here. gns