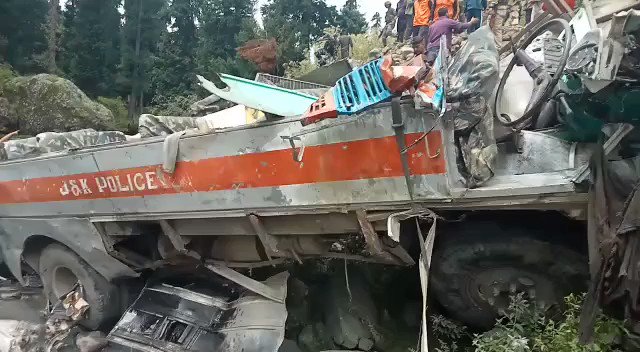 Srinagar, Aug 16: At least seven personnel of Indo-Tibetan Border Police (ITBP) were killed while 32 others and two men from J&K police were injured after a bus they were travelling in skidded off the road and rolled down to a gorge near Zig Chandanwari in Anantnag district of south Kashmir on Tuesday.
The bus carrying 41 personnel—39 from ITBP, and two JKP men, deployed for yatra duties—was returning from Chandanwari Pahalgam when driver lost control over it and the vehicle fell into gorge, official sources said.
Under what circumstance the driver lost control was not immediately known, they said. Four ITBP personnel died on the spot and three others succumbed to injuries while being shifted to hospital, they said. At least 32 other ITBP personnel and two JK policeman suffered injuries, mostly serious, have been shifted to nearby hospital, the officials said. All the injured were shifted to army's 92 base hospital, they said.
The deceased have been identified as Head Constable Dula Singh (Taran Taran, Punjab), Constable Abhiraj (Lakhisarai,Bihar), Constable Amit K (Etah,UP),Constable D Raj Shekhar (Kadapa, Andhra Pradesh),Constable Subhash C Bairwal (Sikar Rajasthan), Constable Dinesh Bohra (Pithoragarh, Uttarakhand) and Constable Sandeep Kumar ( Jammu in J&K).
The injured include ASI/GD Nandan Singh, HC/GD Atar Singh, Ct./ GD Balwant Kumar, HC/GD Daya Ram, Ct./ GD Satish Tiwari, Ct./ GD Bablu Kumar, Ct./ GD Mantu Kumar, ASI/GD Khushal Singh, ASI/GD Inder Singh, ASI/GD Harish Kapari, HC/GD Yad Ram, Ct./GD Bhupender, HC/GD Kumar Nayak, HC/GD Jitu Prasad, Ct./GD Dinesh Chand, Ct./Cook Nikhil Kumar, Inspr. /GD Rakesh Kumar, SI/GD Neel Kanth, Ct./GD Prem Singh, ASI/ GD Ramesh Ram, Ct./GD Govind Kumar, HC/GD Khair Nar Babu, HC/GD Hardik Merad, Ct./GD Ranjeet Boro, Ct./GD Khushpal Singh, ASI/Tele Mahesh Daggar, HC/GD Mohd Qayoom, Ct./GD Jeet Singh, Ct./SK Kaushik Roi, Ct./GD Naresh Singh, Ct./GD Dinesh Chand, Ct./ GD Tsering Dorje, SGCT Sheer Khan and SgCt S Khan of IRP 3rd Bn (driver of vehicle).
"I'm deeply saddened by the tragic accident in J&K where 7 ITBP personnel lost lives. My heartfelt condolences to the family of the Bereaved," Dr Sujoy Lal Thaosen, DG ITBP, said in a tweet, adding, "I stand with them in this hour of grief. We are taking care of the injured & wish for their speedy recovery."
ADGP Kashmir Vijay Kumar said that he was extremely pained by the loss of lives due to the tragic road accident. "My deepest condolences to the bereaved families & prayers for the speedy recovery of the injured personnel," said Kumar.
As many as 19 ambulances were rushed to Chandanwari Pahalgam soon after the accident.
"Local authorities including SDM, Police , SDRF are on the spot and a massive rescue operation was undertaken," they said, adding, "All medical assistance was provided."gns