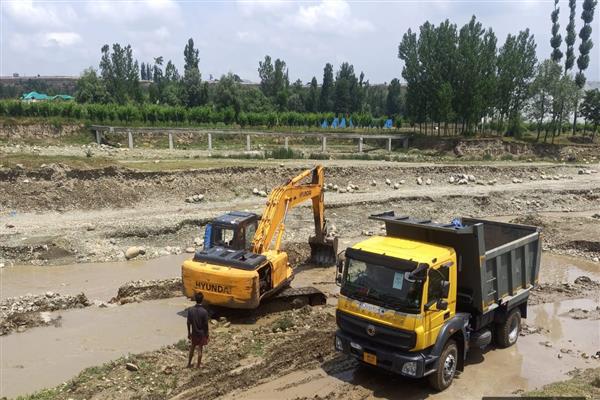 Srinagar August 16: The National Green Tribunal (NGT) has stayed the riverbed mining (RBM) by a Gurgaon based construction company that is executing work on Srinagar Ring Road. The NGT double bench of Justice Sudhir Aggarwal and Prof A Senthil Veil (expert member) on Friday issued an order restraining M/S NKC Projects Pvt Ltd,from undertaking riverbed mining (RBM) in Shali Ganga stream in Trumbi Bagh , Lalgam Panzan area in Chadoora tehsil of District Budgam.
The Tribunal while considering an appeal filed by social activist and Chairman RTI Movement Dr Raja Muzaffar Bhat in the matter, held that environmental clearance (EC) was granted without any replenishment study which was a violation of Sustainable Sand Mining Management Guidelines, 2016 and Enforcement and Monitoring Guidelines for Sand Mining, 2020.
"Hence ex facie EC granted to R-4 (M/S NKC Projects Pvt Ltd) which has been challenged in Appeal are illegal," said the NGT order
The order further reads "since it has been prima facie shown that no replenishment study was conducted, till disposal of the Appeal, we restrain Respondent No 4 (NKC Project) from carrying out any mining activities pursuant to the impugned ECs."
The NGT also noted that the no preparation of replenishment report is not disputed by the firm and was in the view that no further mining activities pursuant to the impugned EC should be permitted.
When contacted Dr Raja Muzaffar Bhat, said
"The grant of Environmental Clearance (EC) for minor minerals by NKC Projects Pvt Ltd in Shali Ganga stream was in violation of Jammu and Kashmir Minor Mineral Concession, Transportation of Minerals and Prevention of Illegal Mining Rules, 2016 and specific and standard guidelines of J&K State Environmental Impact Assessment Authority (JKSEIAA). I asked the JKSEIAA to act but they gave a lukewarm response to my repeated requests. How can a construction company excavate Riverbed Material (RBM) and use it for highway construction while this has to be sold to the local population on 50 % discount ? This is simply loot and plunder. The company has made an illegal road through paddy land as well and local revenue officials should be taken to task and I will raise this issue also before NGT"
The Shali Ganga stream originates in the Tatakoti glacier in the Pir Panjal mountain range as a tributary of the Doodh Ganga, which is again a tributary of the Jhelum river.
"The mining site is already over-exploited and not fit for mining.It will result in disruption of flow, impacting the Hokersar wetland conservation area. The proposal filed by the NKC company was rejected a few months back, then it was okayed on some standard and specific guidelines of state environmental impact assessment authority (JKSEIAA) which are not being followed on ground. The J&K SEIAA is also a mute spectator, and NGT has taken a serious notice of it . Huge JCBs , L&T cranes are being used by company which is illegal " said Faiz Bakshi Convener , Environmental Policy Group (EPG)
The appeal petition also pointed out that mining in the riverbed poses a massive danger to the river embankments, having the full potential of causing floods during the rainy season and bringing about an environmental crisis.kns