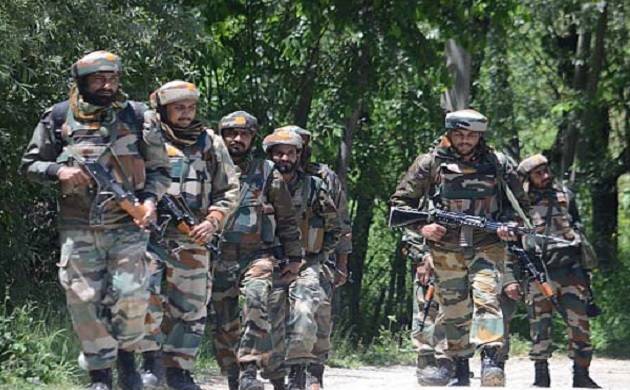 Srinagar, June 7: Three militants, one of them Nadeem Ahmad Rather who left his BVSC studies to join Lashker-e-Toiba and then Hizb-ul-Mujahideen outfits, were killed in two separate gunfights in Kupwara and Shopian district on Tuesday, police said.    
"Based on specific input generated by Police regarding movement of (militants) in Kandi area of Kupwara, a joint special operation was launched by Police and Army's 47RR," a police spokesperson said in a statement, adding, "During search, the joint party came under heavy volume of fire from the (militants), which was retaliated effectively, leading to an encounter."
In the ensuing encounter, he said, two Lashker-e-Toiba militants including a foreigner were killed. They have been identified as Ishtiaq Ahmad Lone of Tral and a Pakistani Tufail, a resident of Lahore.
"It is believed that the group was meant to receive the escaped (militants) from yesterday's operation conducted in Zaloora area of Sopore in which one Pakistani LeT (militant) was killed and three others managed to escape," he said, adding, "Incriminating materials, arms and ammunition including two AK-series rifles have been recovered from the site of encounter. Further, a search operation in the area is still going on to nab the other (militants)."
In another encounter, a BVSc-turned-Hizb-ul-Mujahideen militant was killed in a gunfight with a joint team of Police, Army's 34RR and 178 battalion CRPF in the orchards of Badimarg Aloora area of Shopian. The encounter had ensued after the join team launched a cordon-and-serach operation after specific input about presence of a militant in the area, he said. "As the joint party proceeded towards the suspected spot the hiding (militant) fired indiscriminately upon the joint forces which was retaliated leading to the killing of )militant) identified as Nadeem Ahmad Rather alias Kamran son of Abdul Rehman resident of Ashmuji Kulgam."
He was pursuing Bachelor's degree in veterinary science (BVSc) 4th semester at Sher-e-Kashmir University of Agricultural Sciences (SKUAST) when he went missing on 27 March 2020, officials said.
As per police records, Rather was a categorized militant, active since year 2020. He was earlier affiliated with LeT and recently switched to Hizb-ul-Muajahideen, the spokesperson said.
"(He) was part of the groups involved in several cases including attacks on Police/SF and civilian atrocities," the spokesperson said in the statement, adding, "(He) was involved in Kulpora Panch's killing on 02 March 2022. He was also instrumental in reviving the (militant) folds of HM in Kulgam by recruiting the gullible youth into (the) folds."
He said incriminating materials, arms & ammunition including one AK-rifle and 01 SLR have been recovered from the site of encounter. "All the recovered materials have been taken into case records for further investigation."
IGP Kashmir Vijay Kumar congratulated joint forces for carrying out the operations in professional manner without collateral damage, the spokesperson said.