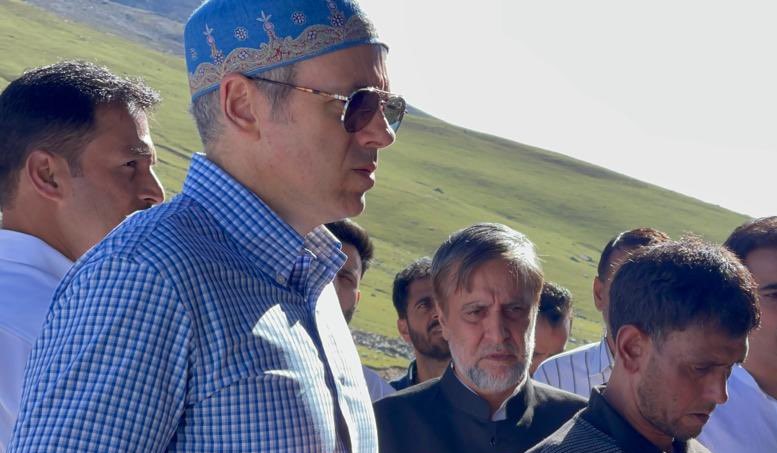 Srinagar, Jun 07: National Conference (NC) Vice President Omar Abdullah Tuesday said that the government should take steps to improve the situation in Jammu and Kashmir.
"The situation is in front of everyone. Hardly any day passes when no incident takes place. The people are disturbed and we want the situation to improve and the government has to do something in this regard," Omar said while talking to the reporters at Baba Nagri shrine in Ganderbal.
Omar said that the party has not started preparations for the polls.
"It's up to Election Commission of India (ECI) to take a call over the conduct of elections here and we will start preparations only after the polls will be announced," he said.
Omar also paid obeisance at the venerated Shrine of Hazrat Mian Nizam Ud Din Qiyanwi Larvi Naqshbandhi (RA) following the annual Urs observance.
Sajjada Nasheen Mian Altaf Ahmed received Omar Abdullah at the shrine.
Provincial President Nasir Aslam Wani, Political Advisor to the President Mushtaq Guroo, and Deputy Political Secretary to VP Mudassar Shahmiri were also present.
Joined by the party functionaries, Omar offered supplications and obeisance at the revered shrine. He prayed for lasting peace, prosperity and tranquillity in Jammu and Kashmir, and Ladakh.
Referring to the contribution of Sufis in shaping the cultural milieu of Kashmir, Omar said, "Sufis like Baba Nizam ud Din Qiyanvi sahib ( RA) brought the essence of Islamic teaching to every household. Their teachings touched a spectrum of issues encompassing both individuals as well as the society in their fold. They talked of compassion, brotherhood and mutual respect. These great men like Hazrat Baba Ji paraphrased universal values in their teachings and sayings." (with inputs from kno)