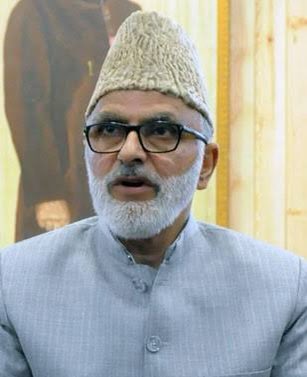 Srinagar April 11: Jammu & Kashmir National Conference General Secretary Ali Muhammad Sagar on Monday asked the party functionaries to work in tandem to meet the challenges ahead.
Addressing Provincial, Zonal, District, Media YNC, Women's Wing functionaries here at the Party headquarters Nawa-e-Subha, Srinagar- Party General Secretary extolled the functionaries to strengthen the party rows to meet the challenges faced by the people of Jammu and Kashmir.
During the course of the meeting the functionaries gave detailed estimation of the prevailing ground situation in their respective areas to the General Secretary, who gave a patient hearing to the individual assessments of all the functionaries.
Echoing the sentiments of the functionaries, Sagar said, "Public interest is sacrosanct to us. Our party has seen high and lows since its inception. The current times require us to strengthen our ranks and steadfastly continue with highlighting the issues confronted by the people."
Concurring with the views of the functionaries, Sagar said the incumbent administration is blind to the issues concerning the public. "NC has always taken a leading role in tackling the challenges posed before Jammu, and Kashmir, and Ladakh. We have to question the government on inflation, unemployment, inflation, and also register people's grievances at all levels."
He said the biggest asset and the legacy of the party is its immense faith in unity in diversity, which it has demonstrated during most testing times of its history. "Sher-e-Kashmir Sheikh Mohammed Abdullah kept the torch of secularism aflame all his life and the National Conference does not need anybody's certificate for its secular credentials. Communal harmony and brotherhood have long been the mainstay of culture of J&K. NC in its humble ways has been leaving no stone unturned to cherish and protect this priced heirloom of ours," he said.