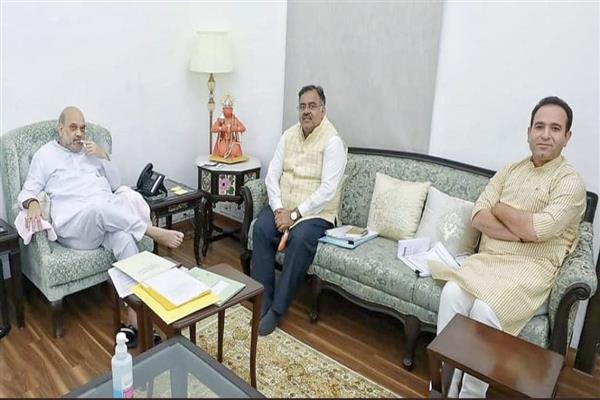 Srinagar, Mar 03: Bharatiya Janta Party (BJP) general secretary and in charge Kashmir division, Doda, Ramban and Kishtwar districts, Sunil Sharma has expressed gratitude to Prime Minister Narendra Modi and Home Minister Amit Shah for resolving long pending demands of Village Defence Committees.
According to reports, the central government has revived the old Village Defence Committees (VDCs)and it has been renamed as Village Defence Groups (VDGs).
Sunil Sharma on Wednesday met Union Home Minister Amit Shah to discuss the issues of VDCs and Dhok Defence Committees (DDCs).
On his official Twitter handle, Sharma informed that Amit Shah gave a patient hearing to all the demands and took on spot decisions regarding some demands.
"Met with Hon'ble Home Minister AmitShah in New Delhi & discussed the issues of VDC's & Dhok Defence Committees (DDC's). While apprising, briefed about demands of these committees. HM gave a patient hearing to all the demands and took swift decisions regarding some on the spot," he Tweeted.
Meanwhile, Sunil Sharma also thanked PM Modi, Amit Shah and Jammu and Kashmir LG Manoj Sinha for reviving VDCs.
"Huge thanks to Hon'ble PM Modi & Home Minister Amit Shah, LG J&K Manoj Siinha and DGP J&K Dilbagh Singh for resolving the long pending demands of VDC members of Jammu region. Many Congratulations to all the Village Defence Committee Members once again," Sharma said in another Tweet. kns