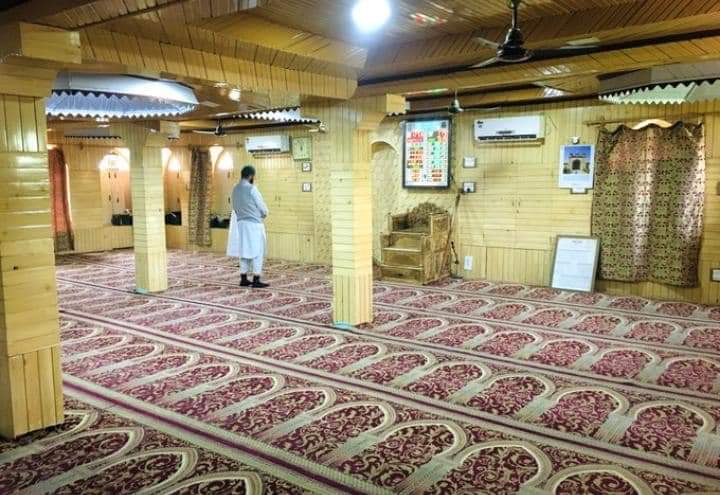 Budgam, Feb 21 : Grand mosque at the revered shrine of Hazrat Sheikh Noordin Noorani (RA) at Charar-e-Sharief which was closed for mass gatherings on 5 August 2021 after cracks were reported in the mosque structure is yet to be repaired and reopened for general public leaving people annoying.
The mosque was closed for prayers after a team of experts declared it unsafe for mass gatherings.
Local residents said that under the pretext of minor construction repairs on the first floor of the mosque and in the premises of Charar-e-Sharief, the prayers were offered first in the compound and later in the passenger compartment.
"Although prayers have been offered on the ground floor since October, the JK project Corporation and NIT Kashmir have not been able to solve the problems of the people," they said.
Mirwaiz Charari-e- Sharief, Amir Din Shah said that from last August, "no steps have been taken to repair the cracks in the grand mosque and people are suffering due to its closure."
"Last year the mosque was closed citing cracks as reason but it has been seven months and none from the administration is serious about the repairing and reopening of this mosque, leaving thousands of devotees to suffer," he added.
He said that people are annoyed due to the continuous closure of the grand mosque and they (people) are ready to enter the mosque in the mass of administration and will not take any step till 1st April.
Abdul Salam Waqaf Board administrator Charar-e-Sharief said  that JKPCC has received the physical audit report from NIT and they have to make physical tests of the mosque.
"Holy days and month of Ramadhan are on the way and more people are expected to visit the shrine. Where they will offer prayers when the grand mosque is closed, we appeal to the administration to make the reopening of this mosque possible as soon as possible so that people will not suffer more," he added. kno