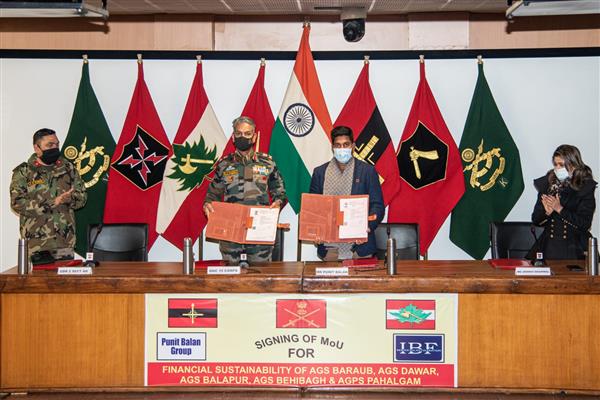 Srinagar January 20: The Chinar Corps entered into a second MoU with Indrani Balan Foundation today for financial sustainability of additional four Army Goodwill Schools (AGSs) at Baraub, Dawar, Balapur & Behibagh in Kupwara, Shopian & Kulgam districts respectively and the Army Goodwill Public School (AGPS), Pahalgam in Kashmir.
The event was presided over by Lt Gen DP Pandey, GOC Chinar Corps along with Mr Punit Balan and Ms Jahanvi Dhariwal of Indrani Balan Foundation.
Indrani Balan Foundation, a welfare foundation is active in variety of philanthropic work across India.
Last year, Chinar Corps had signed a similar MoU with Indrani Balan Foundation for financial sustainability of five AGSs of Uri, Wayne, Trehgam & Hajinan in Baramulla & Kupwara Districts for five years.
In addition, the Foundation had built a new infrastructure for Pariwar School Society for Specially-abled children of Baramulla. This year, the MoU focuses on the four Army Goodwill Schools (AGSs) and Army Goodwill Public School (AGPS) and will entail financial support of Rs. 3,28,00,000 per year for the next five years.
Chinar Corps currently runs 28 Army Goodwill Schools in Kashmir, which educates more than 10,000 students each year.  Over one lac students have passed out from these esteemed institutions. This initiative of Indrani Balan Foundation will be a great example for other corporates to come forward and contribute in building prosperous Kashmir.
On this occasion, GOC Chinar Corps expressed that this shared vision of future is the guiding force to rebuild a progressive Kashmir. .
Post the signing of the MoU a short movie, Mauj Kasheer was screened.
The movie has been conceptualized, written and directed by the young and dynamic Suhail Khan, where the cast and crew were all local Kashmiris. Suhail Khan is a freelance journalist and has rendered his services for bringing positive change in society.
Through this cinematic work, he highlights the changing mindset of citizens, specially the women, "who are against their wards joining the terrorist ranks".