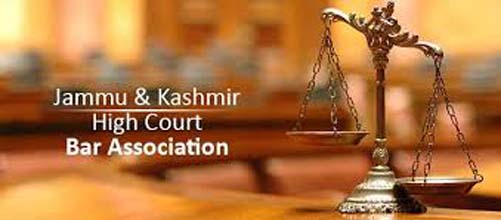 Srinagar, Jan 16: The Jammu and Kashmir High Court Bar Association (JKHCBA) has appealed to the Centre and the UT administration to review the detention orders of Kashmiri detainees detained under Public Safety Act and undertrial  prisoners under UAPA, who are lodged in various jails in J&K and outside.
According to a statement, JKHCBA spokesperson said that they should be released on parole and conditional bail orders in view of the grim situation due to Covid-19.
The statement reads that the threat posed by the 3rd wave to the general public and particularly jail inmates is most disturbing and serious in nature, as such it would be in the larger interests of justice and public health that the cases of detainees be reviewed to decongest the jails.
"t is pertinent to mention that due to Covid restrictions normal functioning of the courts is generally effected and process of release.of such prisoners has become difficult but impossible which is resulting in prolonged detention of the prisoners," it reads.
It reads that the Bar association has received disturbed reports through the families of prisoners about the physical and mental health the prisoners inside the jails.
It reads that as per the unofficial statics more than 5000 Kashmiri boys are in detention either under PSA or undertials under UAPA  since 2019 August and legal process of release through courts has hampered due to Covid restrictions.
The Bar appealed to the President of India Ram Nath Kovind and LG Administration in JK and stated the benefit has already been given to thousands of prisoners of India who were lodged in various jails.  kns