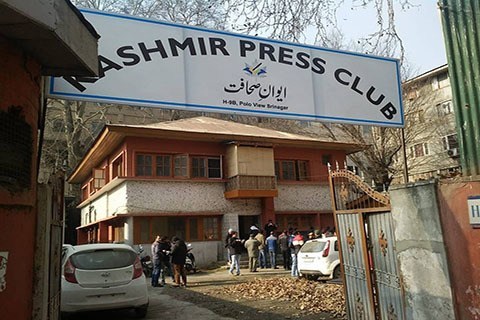 Srinagar: The elected management body and the executive Committee members of the Kashmir Press Club (KPC) have thanked various national media bodies including the Press Club of India, Mumbai Press Club, Editors Guild of India, Delhi Union of Journalists and other individual journalists for raising their voice against the illegal act of 'takeover' committed at the KPC in Srinagar on Saturday.
In a statement, the KOC elected body has further resolved/decided to appointment/ nominate a committee with members from constituent/most media associations functional in Kashmir. While nominating the committee, care has been taken that it be broad-based and represents every section of the fraternity.
"The committee will have the mandate to hold the elections to the new body as soon as possible by constituting an election commission, work on completeling the legalities & re-registration process which is pending before the Registrar Societies and Firms, Kashmir and in the meantime also assist in the affairs of the club," the KPC said.
According to the statement, KPC nominated/appointed members for the committee are:
Riyaz Masroor- (JAKJA), Mehrajuddin-(KVJA), Ashiq Peerzada ( KWJA), Azan Javaid-(JFK), Javed Dar- (KPPA), Syed Muzafar-(KPPA), Malik Saajid-(JAKJA), Shabir Ahmad Mir- (KNTJA), Shahnawaz Khan- (KWJA), Mudasir Kaloo- (KJA), Anees Zargar-JFK, Shahana Bhat-KWJA, Qurat ul Ain Rehbar-JFK, Jahangir Aziz-KVJA
KPC will remain in constant touch with the major press bodies across the board and apprise them on the developments, the statement added.