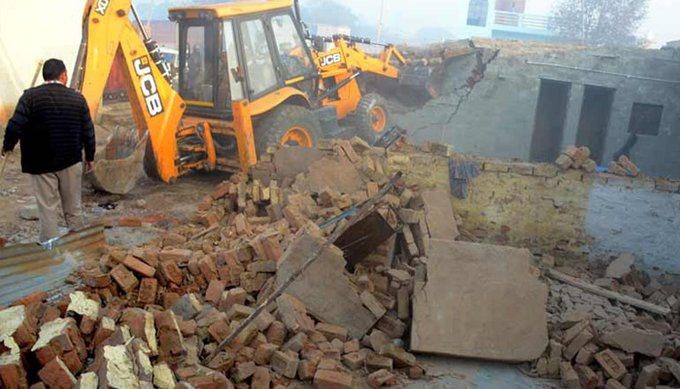 Jammu, Jan 12: The people in Jammu outskirts on Wednesday staged a protest against what they termed as selective demolition drive by Jammu Development Authority (JDA).
The protesters,  blocked the main road for hours during the protest.
They alleged that JDA and the other government agencies launched a demolition drive in Jammu city outskirts and demolished some structures, terming it as illegal, saying that no prior notice was served to them and even court orders have been ignored.
"JDA is carrying out demolition drive purely on selective basis with different yardsticks are being followed which is unacceptable," the protesters said.
The protesters manily belonged to Gujjar and Bakerwal community of the region.
Stop harassing Gujjar, Bakerwal communities: Vakil to Govt
Former Minister and senior vice president Peoples Conference Abdul Gani Vakil Wednesday lambasted the LG administration for targeting sub-minorities in Jammu and Kashmir.
In a statement Vakil said on one side the government is claiming to empower the Scheduled tribes and Scheduled castes through different electoral processes and programs but on the other side continues to witch hunt them on different pretexts.
"The demolition drive against Gujjars and Bakerwal's in Jammu is a reflection of sustained targeting of minorities under this dispensation," he added.
He said that the current administration is adding to the miseries rather than addressing them. "Instead of winning over the hearts of people by addressing their miseries, this government is doing everything possible to further alienate them."
Vakil stressed on the government to stop witch hunting Gujjars & Bakerwals and allow them to live in dignity.