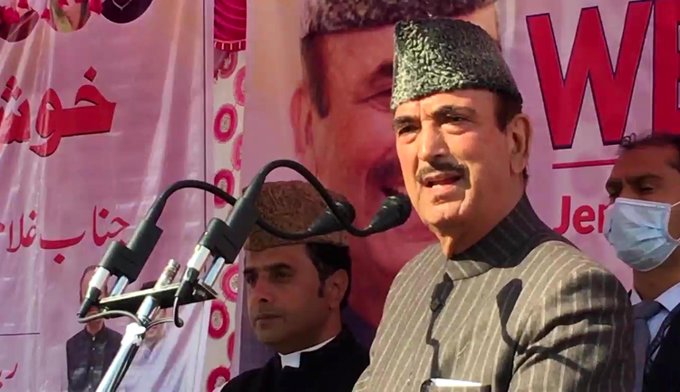 Jammu, Dec 04: Senior Congress leader and former chief minister, Ghulam Nabi Azad on Saturday said that there is no evident reason for the government of India to delay elections in Jammu and Kashmir.
Azad said that during the past years, governor rule was imposed as militancy was prevailing in the Valley and nobody was allowed to vote.
"After that many successful elections were held in Jammu and Kashmir and is a proof that there is normalcy in Jammu and Kashmir. If BDC, DDC and Panchayat elections were conducted successfully then what is the reason behind the delay in holding assembly elections," he questioned.
Azad said that it was a strange excuse by the center that situation is not normal in J&K.
"On one hand center claims that every nook and corner of J&K is having peaceful environment but on the other hand they say that after normalcy elections will be held," he said.
He further said that instead of providing employment, the government is terminating employees in the name of deadwood and every week over 10-20 employees are being terminated from their services. "Is the deadwood policy only for Jammu and Kashmir and not for whole of India?," he asked.
He said that for the past several years there is absence of popular government and elected representatives in Jammu and Kashmir. "The elections are must now for the development of Jammu and Kashmir on all fronts. The elected representatives will reach out to the people and will help in economic growth of J&K and will foster the employment demands of the youth living in both regions," Azad added.
He said that the popular government in J&K will open the doors for construction of new roads, bridges and will boost the industrial sector of the UT.
"These development works would provide employment to workers, labourers, masons, carpenters, contractors. People would get a proper livelihood after the emergence of popular government. But all the works are pending till today. Only a few development projects are under progress so that the contractors of ruling party will get a livelihood, otherwise no project work has been started in J&K," he said.
Azad said that the mountainous areas of J&K , where hundreds of houses are located are devoid of electricity, roads and every basic facility.
"Who will take care of these people who live in such hilly areas? Only an elected representative of government can reach out to them and listen to their issues, besides fulfilling their genuine demands," he said.
Azad said that four years is a very long time and the people of Jammu and Kashmir are suffering for these year in the absence of a popular government. kns