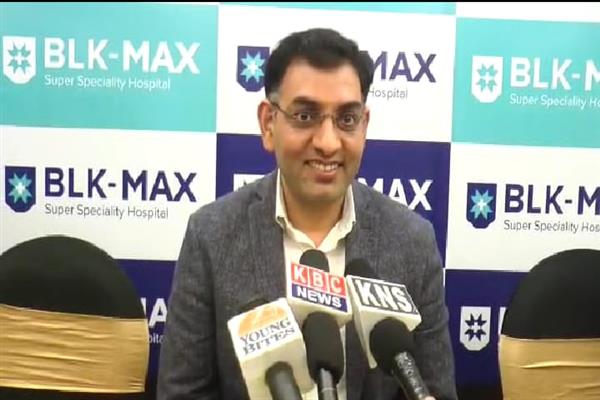 Srinagar, Dec 04: Senior Director and HoD Surgical Oncology and Robotic Surgery at BLK-MAX Super Specialty Hospital New Delhi, Dr Surender Dabas on Saturday said that the death rate of omicron variant is very low as no deaths have been reported anywhere because of this variant and its not so virulent. 
Talking to a selected media persons at the inauguration of exclusive oncology OPD services at Srinagar, Dr Dabas said that only the spread of this variant is high but that doesn't matter much as spreading of this variant can be controlled.
"If the spread of any virus is very high then there will be a fast development of immunity against the virus and that's what we call hard immunity. Presently we are more concerned about mortality rate of the virus. The spreading of virus can be controlled and cured but more focus is on the mortality rate of this variant," he said.
He said that not many people know about the new omicron variant of and as per the knowledge this variant has been detected only in South Africa till date.
Dabas said that according to the surveys, it has been found that the death rate of this new variant is very low.
Replying to a question, Dr Dabas said that normally cancer patients have very low immunity particularly of those who have been given chemotherapy treatments.
"Patients taking chemotherapy are more virulent to this variant. If any patient of cancer gets infected by the virus, then he or she must be immediately isolated and other precautions are necessary to prevent its spread to other people," he said.
Notably, earlier today BLX-MAX Super Speciality Hospital New Delhi launched Oncology OPD services at Max Med Centre in Karan Nagar area of Srinagar. kns