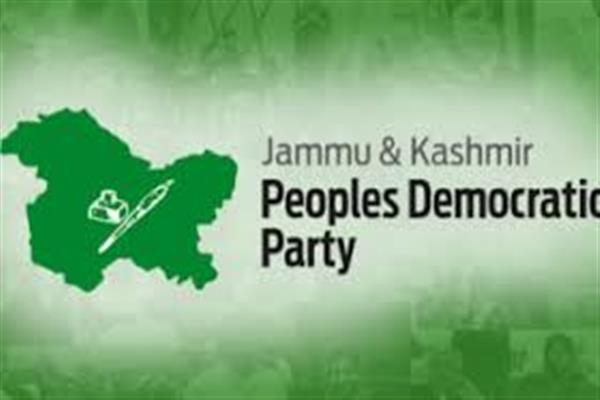 Srinagar, Jun 11: The Peoples Democratic Party (PDP) on Friday said that they cannot participate in the ongoing delimitation process in Jammu and Kashmir as the party at present has no incumbent Member of Parliament (MP) as well as the Member of Legislative Assembly (MLA).
The party while addressing a presser also demanded revocation of decision to charge property tax from the dwellers living within the jurisdiction of Srinagar Cantonment Board.
PDP chief spokesperson, Suhail Bukhari, who was accompanied by party's additional spokespersons Najmu Saqib and Dr Harbakhsh Singh Shunty, said that the parties in J&K can individually decide on their participation in the ongoing delimitation commission.
"However, as far as PDP is concerned, we have no MP and MLA at present so we can't participate in the process," he said when asked about PAGD's participation in delimitation exercise, adding that the way commission has been designed, only the elected representatives are entitled to participate in the exercise.
He further stated that there are reports that the people living within the jurisdiction of Srinagar cantonment Board are being asked to pay property tax. "Instead of helping the people who have been suffering from 2019, the government is pushing the people to the wall," he said.
Bukhari added that the government should revoke its arbitrary decision of charging property tax from the local dwellers, saying that it is unfortunate that people after working hard buy shelter for themselves and are now being asked to pay for it again, which seems that the people of Jammu and Kashmir are being weakened economically as well as politically.
About objection over AIIMS in Kashmir, he said that the initiative has been taken after much hard-work from the party's founder late Mufti Muhammad Sayeed. "Amid the current Covid situation, there is a need to increase health infrastructure in J&K and thus it should also be allowed to come up at earliest for the wellbeing of the people," he said.
Moreover, he said that some documents are being circulated on social media at present, which created panic among the people. "Although some people call it rumors only, but the government has the responsibility to address the concerns of people and inform the people on record that there is no need to panic," he said.
However, he stated that although there is a trust-deficit between the government and public after August 05 2019 decision, but the government needs to come forward to calm the minds of distressed people.
He also expressed sympathy with the families who got affected in the overnight blaze at Noorbagh area of Baramulla district and appealed the district administration to provide them with compensation. kno