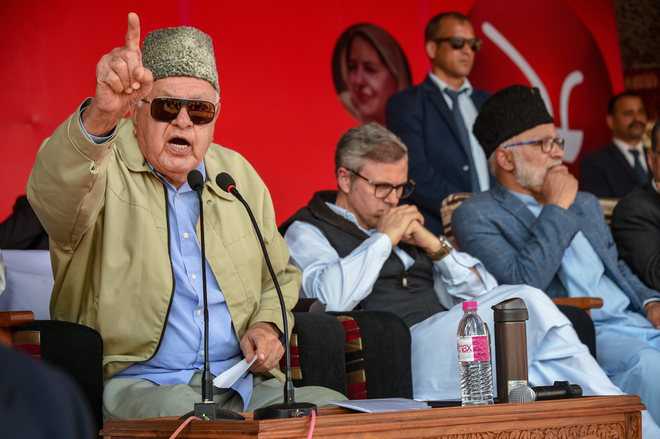 Srinagar, 01 June: The Jammu and Kashmir National Conference President, Member of Parliament Dr Farooq Abdullah, and Vice President Omar Abdullah on Tuesday expressed profound grief over the demise of Mohtamim Madrasa Maarif Ul Quran, Bathandi, Mufti Faiz Ul Waheed, who breathed his last earlier today. 
In their condolence message, the Party President and Vice President paid rich tributes to late Mufti sahib saying that he will be remembered for his ease of illuminating exposition of Islamic tenants and various facets of the holy Quran and the Hadith. Late Mufti sahib, the duo said, was a highly erudite personality with illustrious works in the field of jurisprudence and translation of various Arabic texts to his credit. In his passing away, they said, Jammu and Kashmir have lost a scholar, who had made teaching and peace building his sole purpose in life. The president and Vice President prayed for peace to the departed in the highest stations of Jannat. They also expressed unison with his admirers, family and friends in their hour of grief and loss.
Party General Secretary Ali Muhammad Sagar, Additional General Secretary Dr Mustufa Kamal, Provincial President Nasir Aslam Wani have also paid glowing tributes to Mufti sahib, prayed for eternal peace to his soul and forbearance to the bereaved. The functionaries have expressed unison with the bereaved family, friends and admirers of his in their hour of grief.
Meanwhile, the party general secretary Ali Muhammad Sagar, Provincial Vice President Muhammad Syed Akhoon, District President Peer Afaq Ahmed, have also expressed grief over the demise of Ghulam Ahmed War former Halqa president, Aanchaar, Soura. YNC Provincial President Salman Ali Sagar today visited his residence to offer condolences to the bereaved. kns