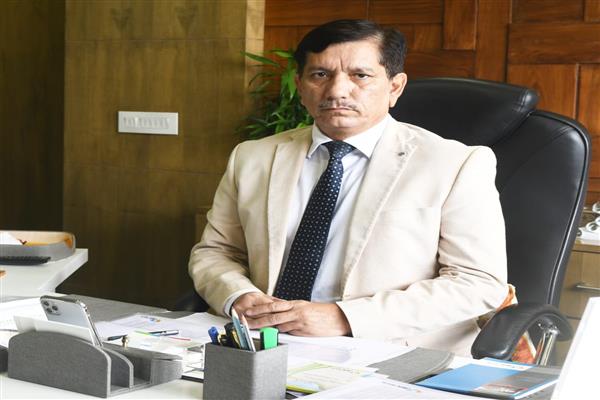 Srinagar, Apr 27: (While speaking in a programme organised by Hotel & Restaurant Association, Katra (HRAK) and Federation of Hotels, Restaurants, Industries and Commerce of Jammu Region (FHRICJR), Chairman and Managing Director J&K Bank Rajesh Kumar Chhibber said that J&K Bank will stand with Business Community in all eventualities and that it was very much aware of the fact that Tourism Sector in general and Hotels in Katra and other Tourist spots of Union Territory of J&K in particular were and are worst sufferer due to earlier and present Covid-19 waves, reads a statement. 
J&K Bank will stand with business community and would provide all help which it could to save the business community in general and Tourism and Hotel Sector in particular to bear losses and keeping that aspect in mind the bank earlier came up with Guaranteed Emergency Credit Line Scheme (GECL) for Hospitality, Travel & Tourism and Leisure and Sporting sectors wherein maximum loan which was 20% of total outstanding loans as on 29th February 2020 in GECL-I and GECL-2 schemes, is further increased to 40% in GECL-3 of total outstanding loan with no fresh co-lateral security, no processing Fee and pre payment penality and is re-payable in 48 equated monthly installments after initial moratorium period of 24 months and said that if need be more tailor made scheme would be launched which would be under the preview of the bank and where required approval from Reserve Bank of India would be taken to bring the aggrieved business sectors out of distress, the statement reads.
President HRAK & FHRICJR Rakesh Wazir, Zonal Head J&K Bank Anokh Singh, Cluster Head Sanjeev Sharma, President Muncipal Committee, Katra Bimal Indu, Former President HRAK Shiv Kumar Sharma, Chairman Block Development Councel Katra Sham Lal, Chairman Block Development Councel Panthel Chander Mohan,Arun Sharma, Rakesh Sharma, Sohan lal,Anil Kumar,Dheeraj Sharma etc. were prominently present in the meeting.
Wazir during discussion besides complimenting the role of J&K Bank in providing best facilities to the people in this difficult time of lock down, also drawn his attention towards the fact that all the schemes given by Reseve Bank of India only extended moratorium of term loans in light of COVID outbreak but need of the hour is waiver of interest of the Covid period besides increasing in moratorium period of the loans and that should be done. He further said that even the units which are under construction too are facing the problems for lack of work force because either it was earlier or present lock downs the work force have gone back to their homes and as a result the units are finding great difficulty in their completion and their moratorium too should be increased, the statement reads.
Bimal Indu while speaking on the occasion raised the issue of non-financing of loans in the main market (Bazar) of Katra on the pretext of it being Abadi Deh in Revenue records and explained that in other parts of Union Territory loaning on them is being done and requested that it should be started in Katra as well.
Shiv Kumar Sharma raised the issue of the entrepreneurs who are not existing loanees of the bank and requested that those too be helped in this period of crisis.
Sham Lal and Chander Mohan said that if the Lock downs imposed by different states and Union Territories are increased further and if the situation worsened the people living in rural areas too would get effected because all their products sell in cities and when there will be no business they too will get effected and want to have the help of the bank.
Chhibber listened each stake holder patiently and assured sympathetic consideration to each and every point which come under his powers and further assured that even the points which pertains to others would be taken up with them as well.