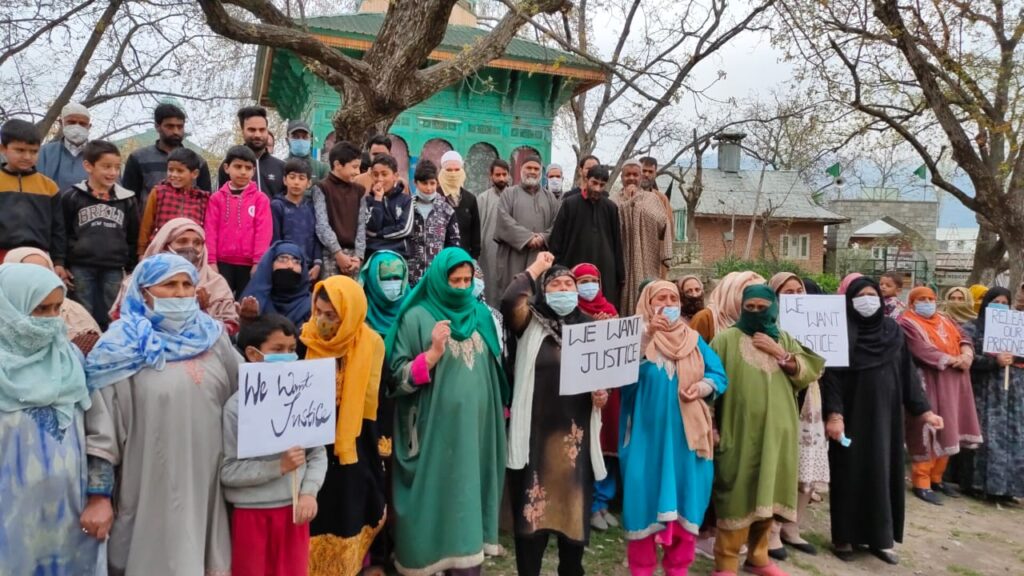 Tral, Apr 05: The families of seven youth arrested in connection with Maqsudan Police Station grenade attack case on Monday staged a protest at Dadsara Tral and demanded their immediate release.
The protesters including men, women and children while raising slogans in favour of justice, pleaded for their innocence and said that they were students and have nothing to do with militancy.
They said that they have been knocking doors of every authority since 2018 but to no avail as nobody has listened to them or offered any help.
"Our beloved are being subjected to torture at Kapurthala jail," they said, adding that they didn't eat food at jail from last 10 days and authorities will be solely responsible if their condition gets deteriorated or any untoward incident happens to them.
Pertinently, Shahid Qayoom, son of Abdul Qayoom of Noorpora, Fazil Bashir, son of Bashir Ahmad of Awantipora, Aamir Nazir, son of Nazir Ahmad Mir of Dadsara Awantipora, Yasir Rafiq, son of Rafiq Ahmad of Noorpora, Zahid Gulzar, son of Gulzar Ahmad of Rajpora, Suhail Ahmad Bhat, son of Ghulam Mohammad Bhat of Noorpora and Mohammad Idrees Shah, son of Abdul Qayoom Shah of Boo Awantipora were arrested in Mohali area in connection with the Maqsudan Police station blast case.
The blast took place at the police station on 14 September 2018 following which they were arrested and subsequently a chargesheet was produced by National Investigation Agency (NIA) against them in October 2019. kno