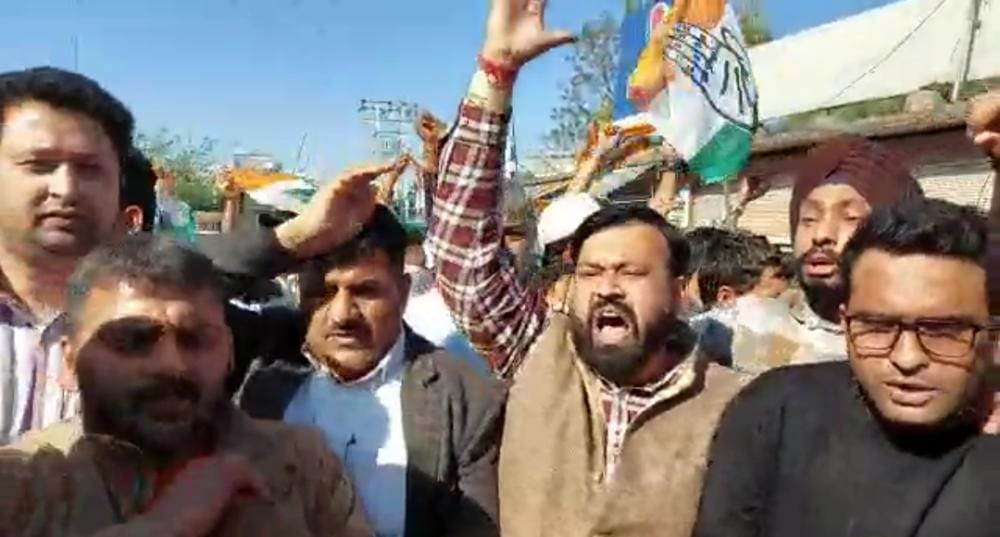 Jammu, Mar 02: Moments after some activists protested against senior leader Ghulam Nabi Azad, a group of Congress workers appeared at Press Club Jammu defending him, saying that he would always be a part of the party.
Azad, who retired last month from Rajya Sabha as the opposition leader has also served as the chief minister of the erstwhile state of Jammu and Kashmir recently visited the Jammu region along with other senior party leaders and addressed multiple gatherings including the Congress party workers.
Talking to reporters on the sidelines of the protest, the party activities said that instead of talking about the measures and steps to strengthen the party in J&K, Azad  started praising PM Modi depicting his inclination towards the BJP.
"All these leaders were missing when many of the Jammu body activities were detained, facing a tough time and the party was in crisis times," the processing congress party activists said.
Questioning Azad for praising PM Modi the party activists said that "What is there to praise. The special status of J&K has been abrogated. Property tax has been implemented. Farmers are protesting," adding that the programme in Jammu was organized by an NGO, not by the party.
Claiming that the ground workers strengthen the party, the protesters said that Rahul Gandhi must ouster Ghulam Nabi Azad immediately since the party requires quality, not quantity.
Another protesting party activist said that the Azad has got huge regard but coming here and indulging in anti-party activities are unacceptable since it hurts them.
"PM Modi has snatched everything from us including the statehood. There is no land and job protection," he said. "Coming here and giving such statements reduces the strength of the party. Wherefrom has this sudden friendship come up between PM Modi and Azad."
Meanwhile, minutes after the protests against Ghulam Nabi Azad, a group of Congress party activists holding INC flags appeared at Press Club Jammu and raised slogans in favour of the senior leader saying the few members have started propaganda against him.
Talking to reporters, a senior activist while naming Shahnawaz Chaudhary said that he contested the DDC election against the Congress party and some agencies including the BJP is unnerved after PM Modi praised Azad.
Maintaining that the protesting activists were not part of the congress party, he said that those who contested elections against Congress will now come to dictate and tell about strengthening the party who are working on the behest of BJP.
"Those against congress will now decide that Gh Nabi Azad is not part of Congress?. On arrival, Azad reached Jammu's office along with the J&K president. He is and will always be part of the congress," he clarified. kno