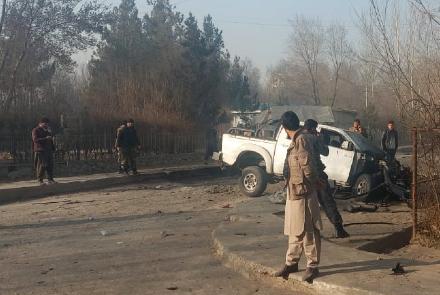 Kabul: Mursal Habibi, Saadia and Shahnaz, three female employees of Enikass TV, were killed by unidentified gunmen in two separate attacks in Nangarhar province on Tuesday, said Zalmay Latifi, the head of the TV and radio network according to Tolo news.
The first incident took place about 4pm local time in Jalalabad city's PD1 as Saadia and Shahnaz were on their way home, according to Latifi.
The second incident happened a few minutes later when a gunman attacked Mursal Habibi in PD4 of Jalalabad city, he said.
"Today was a bad day for Enikass TV," Latifi said, "the three were our top dubbing employees, and were killed in two separate incidents."
The employees had two to four years experience with Enikaas TV, according to relatives.
Latifi confirmed that the national intelligence agency had been "informed" of possible threats ahead of the attack on the employees of Enikass TV.
"We know that there are overall threats against all media workers," he said. "We had put in place some security measures, but it's hard for us."
"A murderer of Mursal has been arrested and investigations into the incident are ongoing," said Juma Gul Hemat, the provincial police chief.
In the meantime, two other women who were passing by the area were also wounded in the shooting and were transferred to Jalalabad hospital, according to health officials.
No group has claimed responsibility for the attack and the Taliban has denied any involvement.
On December 10,  2020, Malalai Maiwand, a journalist at the same TV station in Nangarhar, was killed with her driver in an attack by gunmen on their vehicle in Jalalabad.
Maiwand was also an activist in the province.  Tolo news