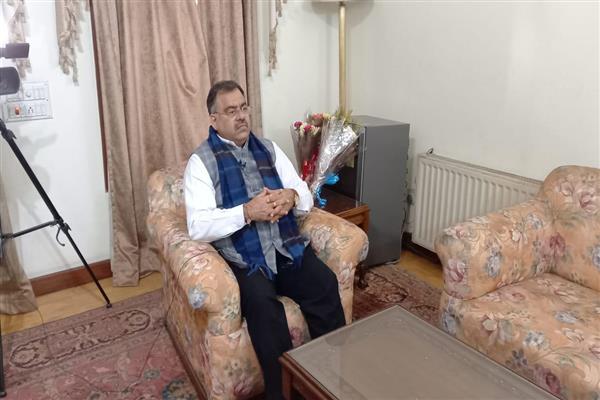 Srinagar, November 18: Bhartiya Janta Party (BJP) State in-charge of Jammu & Kashmir and Ladakh Tarun Chugh today said he would work to ensure corruption free Government to Jammu and Kashmir.
Before leaving to New Delhi, he said "Those who have looted money of Kashmir and country have to return it back. My message for people is to choose BJP for their development and save humanity in Kashmir. We have to save the soul of Kashmir which is humanity.
Kashmir is a place where Buddhist, Muslim, Hindu, Christian , Sikh live together.", he said before leaving to New Delhi.
He added, "My priority is Government with zero tolerance for corruption. We expect good results. Now People of Kashmir want good Government not loot of resources and public exchequer. They want Government who have zero tolerance for terrorism. The Abdullah and Mehbooba family have been looting Kashmiris:.
Chug accused Abdullah's and Mufti's of throwing people to violence.
"They were always against Kashmir. They gave grenades to young boys instead of pens and Ak-47 instead of laptops. Their own kids are studying in outside colleges. They live in five star hotels. They destroyed trade and tourism here.,The children of poor people are dying," he said.
He also said that BJP will work for Kashmir, kKashmiriyat and insaniyat here.
"Peace and development is our responsibility here," he said.
Replying to a question on people's Alliance for Gupkar Declaration, he said, "Sometimes they say Pakistan will come, sometimes they say China will come. People of Kashmir neither want Pakistan nor China, they just want development. They just talk in air. People don't buy anything about Mehbooba's Tirangaa comment at all , people don't buy it. They know she is just spreading poison here".
They have looted Kashmir Mufti and Abdullah family. Anyone can see difference between Hyderabad and Srinagar. Compare development of both in these year's. Development was stopped here."
Regarding a question that BJP is called as anti-muslim party by many, he said, "PM Modis mantra is sab ka sath sabka vikas. 10 cr laterns were constructed for people irrespective of their religious identity. More than 10 crore cooking gas connections. They were given to hindu, muslim , Sikh, Christian on one criteria that they are poor.This is lie we are against any particular community."
Recently BJP appointed Tarun Chugh as State in-charge of Telangana, Jammu & Kashmir and Ladakh. Tarun Chugh was one of the five general secretaries of BJP, and national convener of Beti Bachao-Beti Padhao.
T
arun Chugh (47), who unsuccessfully contested from Amritsar Central Assembly constituency of Punjab twice in 2012 and 2017, started his political journey with the Rashtriya Swayamsevak Sangh (RSS).
He also worked with the Akhil Bharatiya Vidyarthi Parishad (ABVP) and Bharatiya Janata Yuva Morcha (BJYM), and rose to the level of general-secretary. He entered mainstream politics in 1994.(KNS)