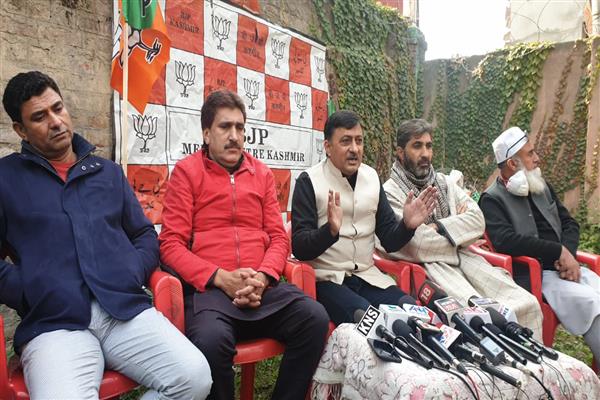 Srinagar, Nov 8: Bhartiya Janata Party (BJP) J&K General Secretary and Kashmir affair's incharge Vibodh Gupta today lashed out at the Peoples' Alliance for Gupkar Declaration (PAGD) terming it as a "Gupkar Gang" stating that if the alliance is against the constitution of India how come the "Gang" is fighting District Development Council (DDC) election under the same constitution.
He said when the results of the DDC polls will be held and those who would emerge winners have to take oath under the very constitution to which "Gupkar Gang" is opposing.
According to a statement, Gupta, stated this while addressing a press conference at BJP headquarters in Srinagar, said that decision of PAGD to contest DDC polls reflects the dual politics being played by the who are out to fight against Indian constitution.
"This is how Gupkar Gang is playing cheap politics and trying to befool people. On one hand they want to remain in the system and gain power and on the other, they are opposing the same constitution of which they are supposed to take oath," said Gupta, who was flanked by BJP JK spokesman Altaf Thakur.
He said key leaders of PAGD like Mehbooba Mufti have stated that she won't touch the tri-colour but tomorrow her party workers will take oath under the same flag when the DDC poll result is announced.
The BJP General Secretary said that "Gupkar Gang" is so afraid of BJP and its growing popularity in J&K that "it decided to stay united against us in the DDC polls."
Gupta said that BJP will contest under its own symbol on all the DDC seats across J&K and show the "Gupkar Gang", the real strength of the party. He said that people of J&K have rejected the dynasty politics and will not trust those who have looted state coffers for the past over seven decades.
Earlier, Gupta chaired a party level meet in Srinagar and received the feedback from party leaders on DDC polls. He directed party men to stay united and to strengthen the party on all fronts in all the districts of Kashmir.