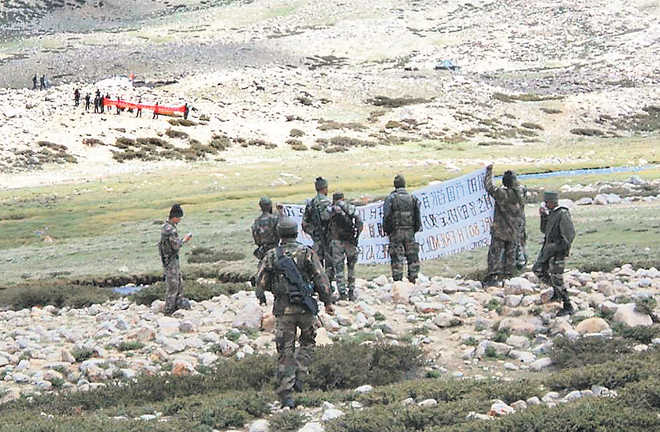 Srinagar, August 16: The Indian army has said that its soldiers are ready for any prolonged stand-off on the Line of Actual Control (LAC) as it claimed 'Chinese troops are not used to hardships because they are mostly from urban areas'.    
"Compared to Indian troops that are battle hardened physically and psychologically, Chinese troops are mostly from urban areas and not used to hardships or prolonged deployment under field conditions. China's concept has always been to win the Wars without fighting, hence if they create conditions for war, they will come across a better trained, better prepared, rested and psychologically hardened Indian troops. These worries have been percolating the minds of Chinese troops and is visible in Chinese media," reads a statement of the Indian army.
According to the statement, army said India always prefers to resolve issues through dialogue.
"While talks are in progress to resolve the issue of borders with China in Eastern Ladakh, at military level it is well prepared for the prolonged stand off," it said.
The army said despite High to Super High Altitude of Ladakh, lot of snow fall, freezing temperature, Indian soldiers have a huge experience of winter warfare and are psychologically tuned to operate at short notice.
"While this fact is known to the world, the operational logistics capabilities are hardly known. Global Times (China) media reports that India's Operational Logistics is not geared up adequately and will not be able to fight through winters effectively. This can best be attributed to ignorance. Indian Army is fully prepared and more than capable for fighting a full fledged war even in winters in Eastern Ladakh," the statement said.
The army said its logistic capability related to mobility, habitat and billeting, quality services from health, special rations, repair and recovery, heating systems, high quality weapons, ammunition, quality clothing, and so on.
"While much of this capability existed earlier and troops could simply plug and play, a lot has also been boosted since May this year when China showed first signs aggression," it said.
"It is important to understand that Army has experience of Siachen where conditions are much more demanding than the frontiers with China. Traditionally there were two routes for moving into Ladakh, that is through Zojila and Rohtang Passes. Recently India commissioned the third road from Darcha to Leh which is much shorter distance wise and less prone to closure. Completion of Atal tunnel on the Rohtang route has force multiplied the logistic capacities.  In addition, we have a large number of air bases with the help of which we can maintain the army well. Modern snow clearing equipment has also been placed on these routes to keep them open beyond November, thus giving us more time for daily maintenance of the troops," the statement adds.