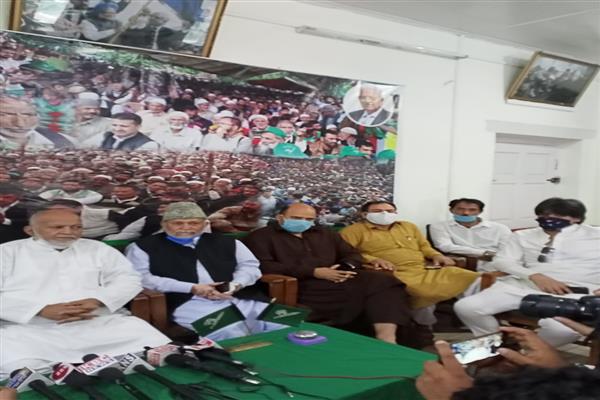 Srinagar, August 3: Senior Peoples Democratic Party (PDP) leader Abdul Hameed Kosheen and Chief Spokesperson said that PDP will mark August 5 as black day and would protest on that day.
Kosheen was flanked by other senior leaders Abdul Rouf Bhat, Haji Parvez Ahmed Abdul Gani Naseem, Dr Harbaksh Singh and Arif laigaroo at a presser here.
He called the August 5 decision unconstitutional, undemocratic, barbaric.
"August 5 decision internationalized Kashmir issue. Now world is worried for its solution," Kosheen said said.
He added that "Whatever the programmes we will chalk for the day will be shared with media persons. We have called for the meeting today for finalizing the program."
On being asked whether politicians were scared of talking for a year, he said," In whole India Media, court are scared. Tell me who is not scared here. Our leader Mehbooba Mufti is still in jail, others who were released are still under house arrest. This has not happened with other parties. We are being punished for our agenda. Everyone knows how a particular party leaders are provided vehicles and security. You should highlight this."
He further said that it was difficult for their leaders to go to PDP office and raise voice against Government in response to a question as to why PDP didn't raise voice for almost a year after August 5.
Another PDP spokesperson Dr Shanty Singh said PDP doesn't accept the democratic 'fraud" committed on August 5 with the people of Jammu, Kashmir and Ladakh.
"This is mandate of the party," he said.
He added that PDP will inform about the mode and place of protest with the media persons after a decesion is taken in today's meeting.
"Keeping muslims leaders detained on the eve of Eid is unfortunate and leaving leaders of other parties is intolerable."
"Government is not allowing movement of first, second and even third rung leadership of PDP. This is being done with leaders of our party only," Singh said.
He said that PDP will fight for the rights of people of J&K Kashmir till last day through democratic and judicial means.
"Whatever we will do, we will do it peacefully," he said.
Singh added that they have pinned hope on the Supreme Court which he says will provide justice to people of Jammu, Kashmir and Ladakh.
He also clarified that Gupkar declaration is still valid for PDP.
" We will request others also to abide by that declaration, Singh said
He also called extension in the detention of Mehbooba Mufti as black spot on the face of democracy.
"We are happy on giving sacrifices for the our stand for the cause. We ready for sacrifices for this,".
Another senior PDP leader, Rouf Bhat said that PDP patron Mehbooba Mufti won't break with the extension of her detention.
"Neither she will bow nor she will get tired with extention of her detention.
Similarly neither people of J&K won't do sell out nor get tired in their fight for their rights," he said. (KNS)