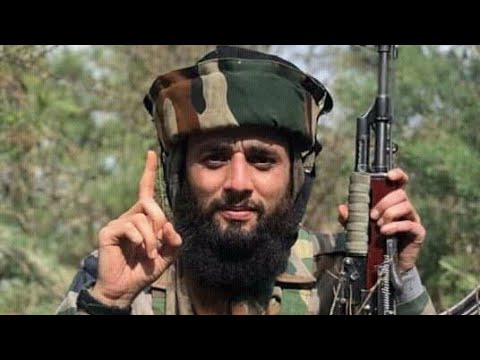 Srinagar, May 19: Hizb-ul-Mujahideen Commander, Junaid Sehrai, who happens to be the son of Tehreek-e-Hurriyat Chairman, Ashraf Sehrai among two militants were killed during gunfight in densely populated area of down town locality of Nawakadal in Srinagar.
"In last night operation's 2 militants were killed. They have been identified as Junaid Ashraf Khan from Srinagar and Tariq Ahmed Sheikh from Pulwama. Junaid is the youngest son of Hurriyat's Chairman Mohammed Ashraf Khan" Director General Police (DGP) Dilbag Singh told the newsmen during a presser.
"Sehrai was assigned the task of heading Central Kashmir areas".
While replying to a query as to what the two slain militants were doing in Srinagar, DGP he said that they were tasked to lure youth into militancy and for grenade throwing. "Sehrai would hold meetings with the youth and lure them towards militancy," he said. His associate Tariq was active in Pulwama and Shopian districts.
The DGP said that Nawa Kadal operation was a clean one as only one residential house caught fire which was controlled immediately.
"The first thing we did in the morning was to evacuate the inmates. In that process, two forces personnel—one from CRPF and another from J&KP's SoG were injured. In the final assault, the remaining militant hurled a grenade in which two CRPF men sustained injured but all the injured are stable," he said.
Asked how many militants were active in Srinagar, the DGP said that number keeps on floating and in entire Central Kashmir, the number is just 14. About the total active militants in Kashmir at present, he said the number is far less than the last year.
"Not more than 240 militants are active in Kashmir," he said, adding that 73 militants were killed this year so far and 95 militants and their associates were arrested
The police and CRPF have laid siege of the locality where Sehrai and his associate were hiding following a lead. During the searches, the gunfight broke out between the two sides which continued till 2 pm.
According to the Inspector General CRPF, R Pandey, three CRPF men including an officer sustained splinter injured after the last surviving militant hurled grenade at the forces during the final assault.
Police sources earlier said that a JK police man sustained injuries in the initial exchange of gunfire that broke out at around 2 am.
"There had been a complete lull from 2:30 am to 9 am. "Contact was established again with the militants at 9 am again," police sources said.
A residential structure caught fire after police and crpf used heavy armoury to overpower the trapped militants in a house.
This is the first encounter post Abrogation of Article 370 on August 5 last year in the summer capital Srinagar.
Police sources said that final assault was launched at 1 pm which lasted for about an hour and around at 2 pm, second militant was also killed.
Junaid alias Amaar Bhai had announced his joining the militant ranks on 24 March 2018 when his pictures brandishing AK-47 riffle went viral on social networking sites.
Wearing a skull cap, the 29-year-old was seen with the riffle signaling his joining the Hizbul, which was a usual trait of the militant outfit to announce the joining of the new cadre to the ranks during the time.
Junaid, an MBA pass-out, had left for Friday prayers on 23 March 2018 but did not return home in the uptown Bagaat area of Srinagar city. The next day, his family approached the Police Station Saddar and formally lodged a missing report. Hours later Junaid's picture surfaced on social media.
The killing of Junaid, youngest son of Mohammad Ashraf Sehrai, comes less than a fortnight after Hizb-ul-Mujahideen commander Riyaz Naikoo was killed along with his associate in an encounter with a joint team of police, army and CRPF at Beighpora village, his hometown in Awantipora area of Pulwama district on May 6. (With input from GNS and KNO)