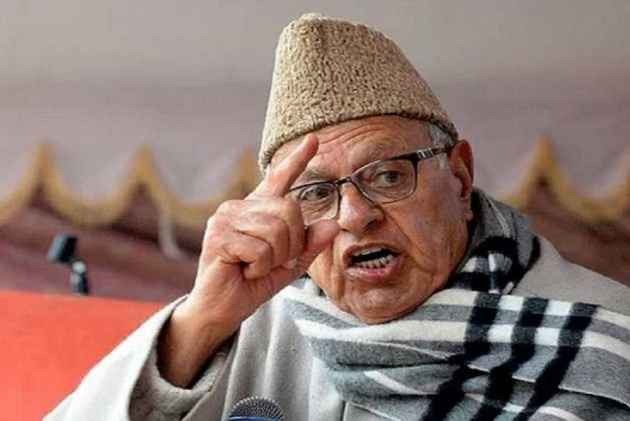 Srinagar: National Conference (NC) President Farooq Abdullah on Monday expressed dismay on Election Commission of India's (ECI) announcement of not holding assembly polls simultaneously with Lok Sabha elections in J&K saying it is a major setback for democracy in the state.
While speaking to media here at party headquarters Nawa- e -Subha, Srinagar, Dr. Farooq said;
"Postponement of assembly polls can have serious ramifications across the state. The ones who took this democratically incoherent decision must be up to some mischief otherwise there is no sound reason for not conducting both assembly and LS elections together. If the situation is conducive for parliament elections, what stops them from conducting assembly elections at the same time?"
"I fail to comprehend the yardstick that has been employed by ECI in not announcing both elections together," adding, "Why same principle was not employed at the time of ULB and Panchayat elections? Perhaps local body polls had become a point of prestige for Prime Minister that is why they were conducted without giving a thought about security and other issues that are being raked up today."
"I am given to understand that the government of India is up to something fishy; however I warn them to refrain from supplanting their setup in the state. Such a move will inadvertently create ruckus in the state. Let me warn them that such a move will prove detrimental to the interests of the nation. I caution them that any attempt to supplant any setup on the people of Kashmir will put the state to flames, which New Delhi would not be able to douse," he said.
While asserting that the people of state are awake to the machinations of the forces as are inimical to state's identity and integrity, he said, "I believe Modi government is contriving to supplant a set up in the state which would work on the whims of Modi. However let me assure them they are undermining the greater good of the nation. People of the state are awake to what they have been doing all along. Nonetheless people of the state will unravel their nefarious designs and give them a befitting reply in the forthcoming general elections."
Farooq while flaying the misrule of the incumbent Modi led government said, "If they think that that they will be able to win the elections with an astounding victory, then I must tell them they are living in a fool's paradise. The war like situation in the country was created to hide the failures of the Modi led government," adding, "When our CRPF personnel were devoured upon in an incident of violence in Chhattisgarh, why didn't the PM go and paid reverence to the bodies of the slain paramilitary men there?"
"The whole theatrics of warmongering following the Pulwama attack is aimed to give Modi an escape route. The forthcoming elections are, without any doubt, between the people of India and Narendra Modi. People will no more fall prey to the catchwords of Modi anymore," adding, "Surgical strikes are not something new; they have been going on in the border areas. However this government is milking the move to extreme for hiding the grimy tale of misrule unleashed on the nation."
When asked about the party's candidate from Srinagar Parliamentary constituency, he said, "I will contest from Srinagar constituency. Our party will ask the people to elect us to put up strong front for the protection of the interests of state and its people from the machinations of forces as are persistent in their efforts to destroy the special status of our state."