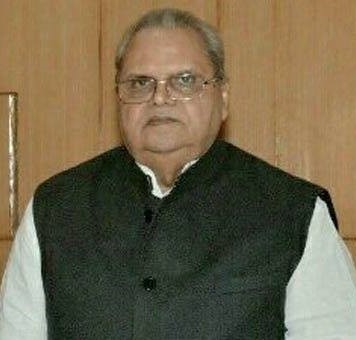 Jammu, Dec 12, CNS: The governor Satya Pal Malik led administration on Wednesday released a list of key developmental, welfare and other measures initiated in the state during past five months.
The compendium was released by Governor Satya Pal at a press conference in Jammu today.
Malik was flanked by his Advisors B B Vyas, K Vijay Kumar, Khurshid Ahmad Ganai and K K Sharma, Chief Secretary BVR Subrahmanyam and Principal Secretary to the Governor, Umang Narula.
Here is the compendium:
A) DEVELOPMENTAL INITIATIVES
1. Rs 80000 crores Prime Minister's Development Package (PMDP) fast-tracked, bottlenecks removed
· Long Pending state level issues resolved
· Land for 2 new AIIMS handed over
· Whole chunk of land for IIT, IIM handed over
· Work started on Ring Road Jammu
· Land for IIM out-campus identified in Kashmir
· For upgradation of Jammu-Akhnoor Road, 1536 kanals of land out of 1619 kanals notified for the project, handed over to NHIDCL
· Work allotted for 317 out of 348 projects costing over Rs 7000 crores for upgradation of power infrastructure under DDUGJY, IPDS, RGGVY, PMDP
· Final installment of Rs 110.74 cr released by Govt of India under PMDP for upgradation of healthcare infrastructure in JK ensuring full release of the allocation of Rs 900 crore under this sector
2. Jammu & Kashmir Infrastructure Development Corporation (JKIDFC) constituted
· To raise Rs 8000 crores for development
· Major thrust to infrastructure, particularly languishing projects – some for over 20 years
· 1296 languishing projects in key sectors with investment of Rs 2700 cr approved
· 559 Water Supply Schemes, costing Rs 965 cr approved to ensure assured drinking water supply
· Approved projects to be completed in 18 months
· Over Rs 5000 crores worth more to be sanctioned in the next 2 months through JKIDFC
· Innovation commended by NITI Aayog
3. Discussion initiated with Asian Development Bank for $150 million fresh loan for new development projects
· Major drinking water, drainage and solid waste management projects proposed to be taken up
· Proposal to ensure 24X7 water supply to both capital cities
4. MoU signed between J&K and Punjab Govts for execution of Shahpur Kandi Dam Project
· National Project on River Ravi –in limbo for over 40 years
· Project to irrigate over 32,000 hectares of land in Kathua and Samba districts
· Quantum push to agricultural productivity
· J&K to also get 20% electricity from Shahpur Kandi, Thein Dams
· Implementation of Project approved by Union Cabinet – Central Assistance of Rs 485.38 crores to be provided over 5 years
5. Ujh Multipurpose Project cleared
· Revised DPR costing Rs 4750 crore approved
· Project to irrigate 31,000 hectares of land in Kathua district
· Project to also generate 186 MW of power
· Project implementation by PSU
6. Rattle Hydroelectric Project cleared for implementation
· Power project was hanging fire for over 5 years
· Project implementation through a joint venture with Govt of India
· Project to generate 850 MW
· Another initiative to harness JK's vast hydropower potential
7. J&K to get first-ever Gas Pipeline
· Jammu and Kashmir Underground Public Utilities Right of Way Act 2014 amended
· To help fast-track Bathinda-Jammu-Srinagar Gas Pipeline project
· Work on City Gas Distribution Networks in Jammu, Srinagar and other major towns likely to begin in next 2 years
8. New Power Corridor to J&K
· 1000 MW capacity 400 KV Line Jalandhar-Samba-Amargarh transmission line (350 Km) commissioned
9. 400/200 kV Gas Insulated Power Substation (GIS) commissioned at Magam in Kashmir
· First of its kind project to bring reliable power to J&K
· To facilitate import of 1000 MW of additional electricity daily from Punjab
10. New rail link from Baramulla to Kupwara
11. Bottlenecks to development projects removed
· 175 declarations/notifications involving 8770 Kanals of land for various important developmental projects like Roads, Bridges, Transmission lines issued
· Pending declarations for acquisition of land for Baramulla-Srinagar-Udhampur Railway Line cleared
12. Dal Lake rejuvenation and beautification
· prioritized removal of surface plant/weeds
· installation of Bio-digesters in houseboats,
· beautification of the path around the lake
· installation of Sewage Treatment Plant being expedited
13. Around 500 connectivity works including roads and bridges allotted under PMGSY. Over 700 km of road length macadamized
B) EMPOWERING PEOPLE
1. Local Bodies Polls
· Successful conduct of Municipal and Panchayat Elections – a landmark achievement
· Elections conducted for 79 Urban Local Bodies – 1145 Councillors elected
· Elections conducted for 4483 Panchayats with a Sarpanch for each Panchayat Halqa and 35029 Panchs
· Free and fair election process completed over a period of 3 months
2. Devolution of Powers
· Jammu & Kashmir Municipal Laws (Amendment) Bill-2018 approved
· Mayors/Deputy Mayors of Municipal Corporations and Presidents/Vice-Presidents of Municipal Councils/Municipal Committees elected through secret ballot
· Transfer of funds, functions and functionaries to Local bodies approved
· Over Rs 2300 crores development funds per annum to be transferred to Panchayats and Rs 1200 crores to Urban Local Bodies
· Amendments made in the Panchayati Raj Act-1989 to devolve powers to Panchayats, ensure participative decision-making
· Functioning and monitoring of 19 Departments devolved to Panchayats
· Social audit of government schemes and programs to be conducted by Panchayats
· Role of Ward Sabhas and Gram Sabhas (HalqaMajalis) clearly outlined
· Rs 2500 honorarium per month announced for Sarpanchs, Rs 1000 for Panchs
· Massive training programme for 40000 grassroots representatives launched
3. Participatory Planning
· Sabki Yojana Sabka Vikas Campaign launched – Panchayat Secretaries registered as Facilitators
· 16423 officials of various departments registered as Frontline Workers
· Panchayat-wise survey launched under Mission Antodaya to identify physical, social infrastructure gaps for effective planning
· Comprehensive Gram Panchayat Development Plan (GPDP) to be prepared by converging schemes – first in the State
· GPDP to form the basis for rural planning
4. Addressing Ladakh's Developmental Aspirations
· Ladakh Autonomous Hill Development Council (LAHDC) Act amended to further empower the Council
· Funds earmarked for development works Ladakh region to be released through the Councils
· Funds to be put in a separate non-lapsable head – To address constraints of hostile weather conditions, limited working season
· Employees of major departments put under administrative control of the Councils – local accountability ensured
· Other initiatives taken to strengthen functioning of the Councils
C) GOVERNANCE REFORMS
1. Anti-Corruption Mechanism beefed up
· First ever Anti-Corruption Bureau established to effectively tackle and eliminate corruption from public institutions
· J&K Vigilance Commission Act-2011 amended to make it more vibrant and effective
· Prevention of Corruption Act amended to give it more teeth
2. Structural Reforms
· J&K Right to Information Act-2009 amended to make the institution of State Information Commission more effective
· Jammu & Kashmir Commercial Courts Act-2018 enacted to provide for speedy trial of Commercial disputes
· Jammu & Kashmir Family Courts Act-2018 enacted to ensure speedy trial of family disputes
· Jammu & Kashmir State Road Safety Council and District Road Safety Committees constituted
· J&K State Road Safety Fund Rules 2018 notified – Road Accident Data Management System, (RADMS) launched
· JK Bank brought under the purview of RTI Act
· Jhelum Tawi Flood Recovery Project (JTFRP) merged with Economic Reconstruction Agency (ERA) to ensure speedy implementation of externally aided projects
· Peculiar arrangement whereby financial expenditure was made by two departments in J&K (unique in the country) ended
· Expenditure Division of Planning Department transferred to Finance Department to maintain fiscal discipline and avoid duplication/ unnecessary expenditure
· Separate IT infrastructure created at Civil Secretariat Jammu to avoid cumbersome exercise of moving the paraphernalia during Durbar move
· Postal delivery of Driving Licences and Registration Certificates started by the Motor Vehicles Department
3. Administrative Reforms
· Fact Finding Committees Constituted to go into areas suspected of having transparency issues
· For time bound service delivery 88 new services brought under the ambit of J&K Public Services Guarantee Act-2011
· Pollution Control Board switches over to Online Consent Management and Monitoring System (OCMMS) for transparency and speedy disposal of Consent cases
D) EMPLOYMENT GENERATION, EMPLOYEES' WELFARE
1. Reforming Recruitments
· Interviews abolished for many posts – selection to be made only through common merit-based exam
· Selection of 958 Medical Officers – fastest ever selection process completed by JKPSC in just 42 days
· Selection process for 3700 medicos and paramedical staff for 5 New Medical Colleges on fast-track
· Strict ban on appointments outside the ambit of rules – All future recruitments to be through transparent, common tests
· School teaching cadre streamlined – single corps of teachers created; Rehbar-e-Taleem scheme frozen
· Action Plan approved to address long-pending issues of 'Sarva Shiksha Abhiyan' teachers hanging fire for so many years
· Waiting list limit enhanced to 50% for JKSSB selections – another reformist step
2. Generating Employment – 42211 New Posts Created
· 28363 supernumerary posts of Teachers for regularization of RReTs
· 800 posts of Veterinary Assistant Surgeons, Paravets
· 177 posts of Panchayat Inspectors for new Blocks
· 13 posts for to-be-established Nuclear Medicine Centre at Govt Medical College Jammu
· 32 posts for newly upgraded health institutions – Sub District Hospital, Hazratbal, Primary Health Centres, Domana&Devar
· 14 posts for Maternity Care Centre Zakura, Srinagar
· 48 posts for Mission Directorate, Integrated Child Protection Scheme, Juvenile Justice Boards, Child Welfare Committees and Selection cum Oversight Committees on implementation of Juvenile Justice Act
· 8531 posts in the Police Department for better promotion avenues to non-gazetted cadre
· 4000 posts for 2 Border Police Battalions & 2 Women Battalions
· 131 posts of various categories in Subordinate Judiciary
· 44 posts for courts of Sub-Judges and District Legal Services Authorities
· 32 posts for Vigilance Cell in J&K High Court
· 12 posts for OBC Hostels at Jammu and Srinagar
· All eligible SRO 43 cases being settled on priority
· Teaching staff hired on academic arrangement to be utilised for two months of winter vacations also
3. Employees' Welfare
· Remuneration of Anganwari Workers hiked from Rs 3600 to Rs 4100 per month, Helpers from Rs 1800 to Rs 2250 per month
· Remuneration/Honorarium of Research Assistants in J&K High Court hiked from Rs 15000 to Rs 25000 per month
· Fixed Travelling Allowance of Village Level Workers / Multipurpose Workers in Rural Development Department hiked from Rs 15 to Rs 100 per month
· Substantial hike announced in honorarium of SPOs – morale booster for 32000 SPOs
· Ex-gratia for Next of Kin of slain Police personnel hiked from Rs 48 lakh to Rs 70 lakh and for slain SPOs from Rs 14.50 to Rs 30 Lakh – Govt to also bear education cost upto 12th class of 2 children
· Construction of 20000 flats approved for police personnel on self-financing basis
4. Addressing Employee Needs
· High-level Committee headed by Advisor to Governor constituted to address service-related grievances of government employees
· Long pending demand of removal of pay anomaly of Clerical Cadre fulfilled benefiting 25000 employees
· Fast-tracking Promotions /DPCs – some pending for almost 40 years
· Special Nodal Officers designated in all Departments to resolve, expedite issues of Seniority Lists, Promotions and DPCs
· Release of Selection Grade/Special Scale in favour of KAS Officers
· Release of Selection Grade II and I in favour of KPS officers
· Promotion rules further simplified for KPS officers
E) PUBLIC OUTREACH, SOCIAL INCLUSION
1. Grievance Redressal
· Governor's Grievance Cell and District Grievance Cells established
· 35322 complaints/grievances received by JK Governor's Grievance Cell
· 34313 dealt with / forwarded to concerned for timely redress
· Advisors to Governor holding public hearings both at Jammu and Srinagar every week
· Divisional Commissioners and Deputy Commissioners also holding regular grievance redressal camps
· Winter Secretariat made fully functional in Srinagar
2. Universal Healthcare
· Ayushman Bharat launched
· 6 lakh families to be provided free health insurance cover of Rs 5 lakh each
· Secondary and tertiary care hospitalization in more than 13000 government and private empanelled hospitals across the country
· JK leads in number of Ayushman Bharat Gold Cards approved
· State currently ranked second across the country for number of cards verified
3. Power to every home
· J&K achieved 100% Household electrification on 26.10.2018 under SAUBHAGYA
· J&K first in the country to reach the milestone- much ahead of target date of 31 December 2018
· J&K SAUBHAGYARATH becomes a model for other states
· Long pending electrification projects now moving at a rapid pace
· State poised to achieve 24×7 power to all by Dec 2019
4. Housing for All
· Nearly 6000 new houses constructed during past 5 months under PMAY
· 20000 new houses sanctioned
5. Sanitation
· J&K declared Open Defecation Free (ODF) on 15 September 2018
· Target achieved well ahead of deadline of 2 October 2019
· 1.1 million toilets constructed
6. Education
· 40 new Degree Colleges being opened this year- a key youth demand addressed
· Liaison Officers designated in 11 major cities to promptly address issues of students studying in other parts of the country
7. Sports Infrastructure
· State Level, Divisional Level and District Level Task Forces constituted for promotion of sports activities in the State
· Sports projects under PMDP put on fast-track
· Funds provided for development of sports infrastructure in educational institutions
8. Social Inclusion
· 40000 new cases approved for pensions to the aged, widows and specially-abled
· Monthly pension of widows (victims of violence) enhanced from Rs 750 to Rs 1000
· Financial assistance for World War-II Veterans and their Widows hiked from Rs 3000 to Rs 4000 per month
· JK Government Scholarship for students with special needs announced – Rs 1 lakh to be awarded every year to 2 meritorious specially-abled students
· Jammu & Kashmir Rights of Persons with Disabilities Act-2018 enacted – number of disabilities covered increased from 7 to 21
· J&K State Trust for Welfare of Persons with Autism, Cerebral Palsy, Mental Retardation and Multiple Disabilities Act-2018 enacted to enable and empower specially-abled persons
· Composite Regional Centre (CRC) for rehabilitation of persons with disability approved for Jammu on the lines of existing CRC at Srinagar
· 2 Homes approved-1 each at Srinagar and Jammu- for resettlement and rehabilitation of patients cured of mental illnesses but abandoned by their families
· Juvenile Justice Boards and Child Welfare Committees established in all the districts
· Four shelter homes under Juvenile Justice System approved- 2 each for Jammu & Srinagar
F) RELIEF, REHABILITATION, WELFARE MEASURES
1. Natural Calamities
· Relief to snow-hit orchardists hiked by 5 times from Rs 6800 per hectare to Rs 36000 per hectare
· Rs 5 crore each placed at the disposal for Dy Commissioners for immediate disbursement of relief
· Rs 28 crore released for purchases of hi-tech snow clearance machines
· Waiver of demand raised by Assessing Authorities of State Tax Department against 1573 flood-hit traders
2. SDRF
· Procedures simplified, decentralized to enable quick, easy disbursement of relief
· Rs 273 crore released during past 5 months
3. State Marriage Assistance Scheme
· Additional allocation of Rs 15 crore for current fiscal
· Highest ever total allocation of Rs 35 crore in a single year
· 8000 girls to be covered this year taking total coverage to around 17000
4. LadliBeti
· Additional allocation of Rs 20 crore for current fiscal
· Rs 32 crore available for this year under the scheme
5. People affected by Hydropower Projects
· Rehabilitation & Resettlement Plan approved for families affected by Kawar Hydropower Project in district Kishtwar
6. Ex-Gratia
· Ex-gratia for NoKs of slain Police personnel hiked from Rs 48 lakh to Rs 70 lakh, for NoKs of slain SPOs from Rs 14.50 to Rs 30 lakh with education cost upto 12th class of 2 children to be borne by State Education Department
7. Migrants, Displaced Persons
· Notification issued for disbursement of cash assistance amounting to Rs 5.50 lakh per family to West Pakistan Refugees
· Scheme for providing cash relief to PoJK Displaced Persons fast-tracked
· Recruitment of Kashmiri Migrants under Prime Minister's Special Job Package expedited
G) PROMOTING ENTREPREUNERSHIP
1. Grooming Start-ups
· J&K Start-up Policy 2018 rolled out – to facilitate, nurture growth of Start-ups in the State
· Policy to inspire young, entrepreneurial brains to create a vibrant and innovative Start-up Ecosystem
· Atal Incubation Center – Jammu and Kashmir Foundation incorporated as a Company
· J&K Industrial Policy – 2016 amended to relax Start-up norms
· Start-ups and Micro & Small Enterprises exempted from 'Prior Experience' and 'Turnover Clause' in all public procurements
· Marketing Support to Start-ups enhanced from 15% to 20%
· Enterprises in Service Sector brought at par with Manufacturing Sector for various incentives
2. Ease of Doing Business
· J&K Single Window (Industrial Investment & Business Facilitation) Act-2018 approved
· New legislation to facilitate overhaul of outdated processes, procedures involved in setting up, operation of businesses in the State
· Single Window Portal launched for Investors/Entrepreneurs for clearances from various departments
· 23 new services notified by Industries & Commerce Department as Online Only
· J&K State Partnership Act 1938 amended to facilitate establishment of joint ventures
3. J&K Trade & Export Policy
· First ever Trade & Export Policy (2018-2028) rolled out
· Policy aimed at enhancing Domestic Trade Volume by 5 times in next 10 years
· Shall transform system from regulator to facilitator and from performer to enabler
4. Rural Employment Generation Programme
· Big-ticket J&K Rural Employment Guarantee Programme launched with annual outlay of Rs 50 crore
· To target 1500 unemployed youth annually
· Scheme to be implemented by J&K Khadi & Village Industries Board
5. Adding Value to Horticulture
a) Walnut Processing Units
· Interest subvention scheme for setting up Walnut Processing Units in the private sector approved
· Units of upto 500 MTs capacity eligible under scheme
· Interest subvention of 100% for 5 years on a loan of Rs 1 crore
b) Walnut Nurseries
· Scheme for setting up Hi-tech Polygreen Houses in Walnut Nurseries approved for private sector
· 50% subsidy support for investment upto Rs 15 lakh
· 100% interest subvention on balance loan raised for 5 years
c) Aloe Vera cultivation to be promoted through 75% subsidy support
6. Controlled Atmosphere Stores
· Subsidy scheme approved for establishing 10 Controlled Atmosphere Stores (CA Stores) in the State
· Units upto 5000 MT capacity eligible under new scheme
· Additional 33% back-ended subsidy on pro-rata basis – maximum ceiling Rs 7.26 crores
7. 100% interest subvention on loan raised for purchase of Refrigerated vans
8. Social Entrepreneurship
· Women's Development Corporation strengthened – State guarantee of Rs 30 crores provided for raising loans from National Apex Corporations
· Rs 8.80 crores disbursed among 391 women beneficiaries for establishing income generating units
9. SC/ST/BC Development Corporation revitalised
· State guarantee of Rs 24 crores released for raising loans from National Apex Corporations
· 2% guarantee fee waived off
· Rs 10.45 crore disbursed among 521 beneficiaries for establishing income generating units
10. Promoting Women Entrepreneurship through UMEED
· 3814 new Self-Help Groups constituted
· 3745 SHGs provided revolving fund