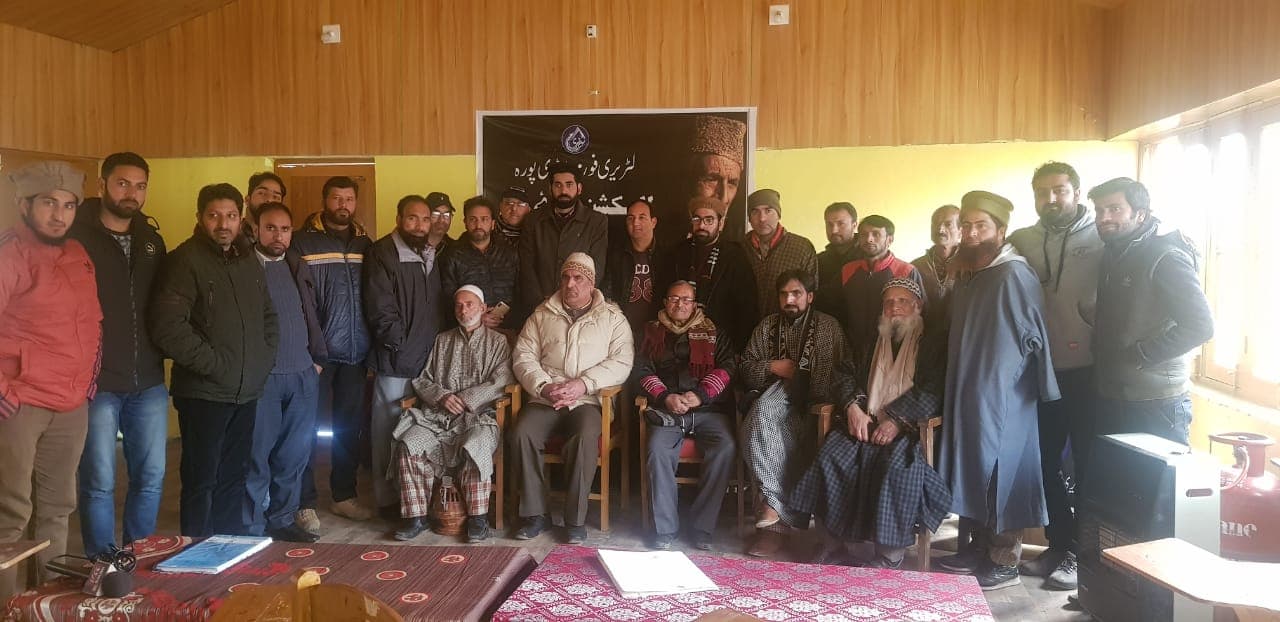 BANDIPORA: Literary Forum Bandipora (LFB) on Sunday elected Sufi Showkat as the president of the organization as it held its general election which was overdue from past one year.
The elections for the states one of the largest constituent of Adbi Markaz Kamraz (AMK) were held under the supervision of senior advocate Reyaz Ahmad while General Secretary AMK Abdul Khaliq Shams was deputed as observer by the AMK.
Advocate Reyaz declared Sufi Showkat as the President, Mir Tariq as the Vice-President, Mansoor Muntazir, Tayir Ghulam Hassan Buhroo as secretary, Sheikh Saleem Bin Ahmad as Media Secretary and Peerzada Mubarak Ahmad as treasurer of the organization. All the members of the organization were elected unopposed.
The members of the LFB unanimously selected noted poet Mubashir Saleem Nazki as the patron of the organization while Manzoor Qayasi was elected as the convener for other languages including Pahari, Gojri and Sheena.
Speaking on the occasion, the newly elected President put forth his vision for strengthening the organization. He said the organization will dedicate the year 2019 to highlight the contribution of Professor Abdul Rashid Nazki and Dr Shujaat Bukhari towards Kashmiri language.
Stating that LFB will soon release the calendar of activities for the year, Sufi said the LFB will host at least six seminars and conferences besides monthly poetic sessions. He said the LFB will hunt for the younger poets and writers and will provide them a platform to showcase their talent. He said the organization will also rediscover the noted poets and writers of Kashmiri language who have been forgotten in history and will work for the betterment of Kashmiri language.
Sufi said the LFB is an important constituent of the AMK and will continue to work under its guidance.
He appealed members of the organization to work in coherence and sought their cooperation for elevating the organization wherever needed. He said that he would take up the responsibility seriously and will work for the welfare of all the units and members who are devoted to democratic set-up of the organization. "LFB is a linguistic Movement and we have to work effectively for this movement taking all the members along."
Earlier patron Mubashir Saleem Nazki congratulated the new team and hoped that they will take a lead role in the linguistic movement and will provide a platform to the young writers and poets to showcase their talent. He said the young team will give new life to the organization and will take it to the new heights of success.