Srinagar: The Jammu and Kashmir High Court has registered a suo-motu PIL taking note of extreme lack of sporting facilities in Jammu and Kashmir.
The bench comprising Chief Justice Gita Mittal and Justice Alok Aradhe issued a notice to the Ministry of Youth Affairs and Sports, Government of India, the Jammu and government and several sports associations and federations in this regard.
The bench referred to Section 21 of the Constitution of Jammu and Kashmir which provides that the state shall strive to secure: (a) to all children the right to happy childhood with adequate medical care and attention; and (b) to all children and youth equal opportunities in education and employment, protection against exploitation, and against moral or material abandonment.
The court observed that a 'happy child' is best secured by enabling adequate sporting opportunities to him or her and that sports are an essential concomitant of holistic and complete education as well for healthy development. The bench also observed that the state government which is vested with the responsibility to secure to the children their right to a happy childhood has done precious little.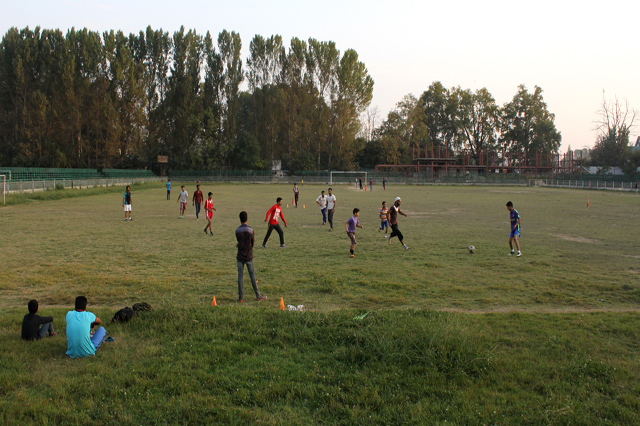 "The respondents cannot be permitted to maintain a blind eye to the hard reality that, more than for adults, a childhood and youth, spent without the freedom of playing in open spaces or participating in organized games and sports, could actually distort their development and the young minds. To us, it is a shocking state of affairs that even a valuable water body as the Dal Lake which is available for developing and encouraging water sports is so grossly underutilized, if at all," the bench said.
It was while considering a PIL relating to insufficiency of parks and open spaces in Srinagar that the bench noticed that most of the sports in which India is competing at the international level are completely absent from the state. It said: "It is common knowledge that even in Srinagar, there are barely three to four stadiums: one being the Bakshi Stadium which provides for playing football; the second is the Sheri-Kashmir Indoor Stadium which provides for some indoor games as badminton, table tennis; the third and fourth are TRC Ground and Polo Ground, where football and cricket are being played. The status in Jammu is not much better. We are informed that there is not a single athletic track facility, swimming pools, basket-ball courts, baseball, to play carrom, chess, billiards and the other sports games in Srinagar for children to learn and play. There are no public swimming pools in the city of Srinagar."
The court added: "Such facilities are available to the children, youth and persons of all ages and culture in every part of the country. These facilities must be made available to every child, youth and resident in the State of Jammu and Kashmir. The Government of Jammu and Kashmir has an essential responsibility to ensure that these facilities are enabled to every person who is a resident of or visits the State of Jammu and Kashmir."
Emphasising on the importance of sports, the bench observed: "There can be no doubt at all that sports enhances the physical and mental development of all persons. The participation in sports activities helps in development of healthy bones and muscles, increases fitness, improves sleep, enables socialization, improves the cooperation skills, boosts self-confidence. Being involved in a sport teaches valuable lessons in teamwork, most importantly, it takes away depression and reduces stress. Sports essentially facilitates development of patience, rectitude, comradeship, a new sense of togetherness and belonging. It is critical to remember that sports provides a safe and healthy platform for learning control, coping with defeat and helps building resilience. Furthermore, the following the rules of game inculcates discipline, punctuality and respect for authority. Sports thus plays a vital role in the child's development of self-esteem and self-worth.  The importance of sports in the life of any person cannot be sufficiently emphasized. Participation in sporting activities is a building block in bringing in habits of discipline, rectitude, perseverance, commitment and most importantly developing an ability to work in teams. It provides a critical outlet for the energy possessed by young children and the youth. It enables a healthy pastime for utilization of free times. It contributes greatly to the development of the health of the participating persons and motivates not only the participants but also the onlookers towards healthy competition and inculcation of a spirit of cooperation, thrill and enjoyment. Participation in healthy sporting and gaming activity facilitates sharing of skills, differential abilities as well as creativity. It contributes to building a more sensitive, innovative, equitable, fair community and world." (Courtesy: Live Law)