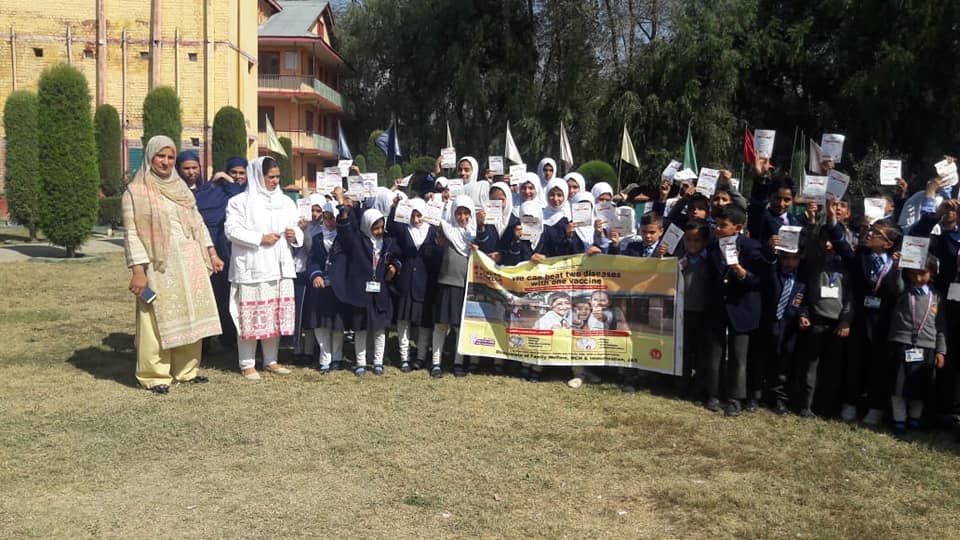 Srinagar: Measles- Rubella Campaign has got an overwhelming response in the state of Jammu & Kashmir covering 31 lakh children in just 7 weeks of School and Out Reach activity.
The Department of Family welfare excellently managed the campaign with intensive IEC Activities, Sensitization of all stake holders especially from Education Department, ICDS Department, Religious Organizations, Local influencers, Community leaders achieving 82 % target till date.
Atal Dhullo, Principal Secretary Health & Medical Education J&K, has been personally monitoring the day to day activities of the Campaign and directing for everyday corrective measures.
Dr Arun Sharma Director Family Welfare ,MCH & Immunization said that the department was at the end stage of the huge campaign with around 31 lakh already covered and will achieve the target of 37 lakh in 2-3 weeks.
The health authorities gave division wise break-up for the Measles Rubella campaign in the state.
Kashmir Division: 18,53,604 Children ( Age group of 9 months – 15 Years)
Jammu  Division: 11,95,204 Children ( Age group of 9 months – 15 Years)
Leh , Kargil , Budgam, Kulgam, Kathua ,Samba Districts  have already  completed the campaign and other districts at the verge of completion, health officials said
MR Vaccine will be given free of cost in routine immunization after the campaign at 9 months and 16 months respectively.